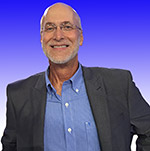 Chares T. White is an Emmy award-winning producer/director, technology critic, consultant and author/photographer who's achieved success in four distinct media disciplines: broadcast, music performance, journalism and entertainment management.
Charlie is CEO of Tempamatic, Inc., a media-creation, talent management and consulting corporation he founded in 2008. Notable clients include the world-famous illusionist Simon Pierro, known as "The iPad Magician." For three years, Charlie served as Simon's talent agent and personal manager. In 2015 he introduced Simon to U.S. audiences, securing appearances for the popular German magician on The Ellen DeGeneres Show, NBC TODAY, The Wall Street Journal's "Lunch Break" and Penn & Teller's "Fool Us."
In his 30-year broadcast career, Charlie's experience included directing six national TV series for PBS. A career highlight was executive producing, directing and securing funding for both seasons of the hit national PBS cooking series, Ecole de Cuisine: Professional Cooking for the Home Chef with Jill Prescott. Other highlights included long-running directing assignments with PBS series The Nightly Business Report, Star Gazer, Dollar Signs, Sewing With Nancy, and Techno@bytes. His specialty was promotional spot creation, for which he won a Chicago/Midwest Emmy Award. He also won the coveted Gold Medallion from the Promax/Broadcast Designers Association for promo of the year and the First Place Award for Excellence from the Wisconsin Broadcasters Association for writing, producing and directing the best promo of the year.
In his 24-year career as a technology critic and author, Charlie White has written more than 9,000 published articles, totaling more than 3 million words. He's written for dozens of print publications, including Wired, Popular Science and Maximum PC magazines. Online, he was the traffic-leading author and Senior Editor of Mashable, was Senior Associate Editor and the most popular author at gadget site Gizmodo, was the traffic-leading Deputy Editor of NBC Universal's DVICE, and was one of the founders of the groundbreaking late-'90s content-creation hub, Digital Media Net.
The capstone of his writing career was publishing two editions of Bloggers Boot Camp: Learning How to Build, Write and Run a Successful Blog, the critically acclaimed book he wrote along with John Biggs (TechCrunch/The New York Times). Focal Press twice published the 100,000-word book. Its first edition was released in 2011, and an extensively updated second edition was published in 2014. The book is highly regarded as the definitive guide for writers who want to get into the business of professional online journalism.
Charlie is currently focusing on a photographic exploration and physical fitness project. The daily photos first featured a six-year, 10,000-mile "Suburban Expedition" through the parks, trails and country roads in the suburbs near Milwaukee, Wisconsin. He documented the lush Midwestern scenery with a smartphone and shared his adventure first on Instagram and then on Twitter. He met his goal of hiking 10,000 miles on August 26, 2020, and now he's extended that goal to 24,900 miles, equal to the earth's circumference. He plans to reach that new goal by December 31, 2030, and has named this segment of the project "World Peace Walk 2030" (#WPW2030). Learn more about this ongoing adventure here.
While beginning his television career, instead of starving, Charlie was a radio announcer for classical and jazz stations in Miami and Greensboro, North Carolina. He was also a professional saxophonist and recording artist, working with small groups, big bands, and as a studio musician for a variety of musical artists. The 15-year musical adventure included a seven-year gig in Miami with "Los Cumbiamberos," a Latino big band with which he recorded five albums. One of those was for CBS Records.
Here's a list of Charlie's life highlights, and to learn more about his career, see his LinkedIn profile here.
Charlie's currently living an unusually happy life in a small village on the windswept prairie of the central United States, just outside Milwaukee. Nestled between the whispering evergreens and amber waves of grain — but not too far from a major airport and fast Internet access — is the Midwest Test Facility, where Charlie delights in enhancing the lives of readers, audiences, politicians, entertainers and entrepreneurs.
Charles T. White's mission: vitam impendere vero (to devote one's life to truth)