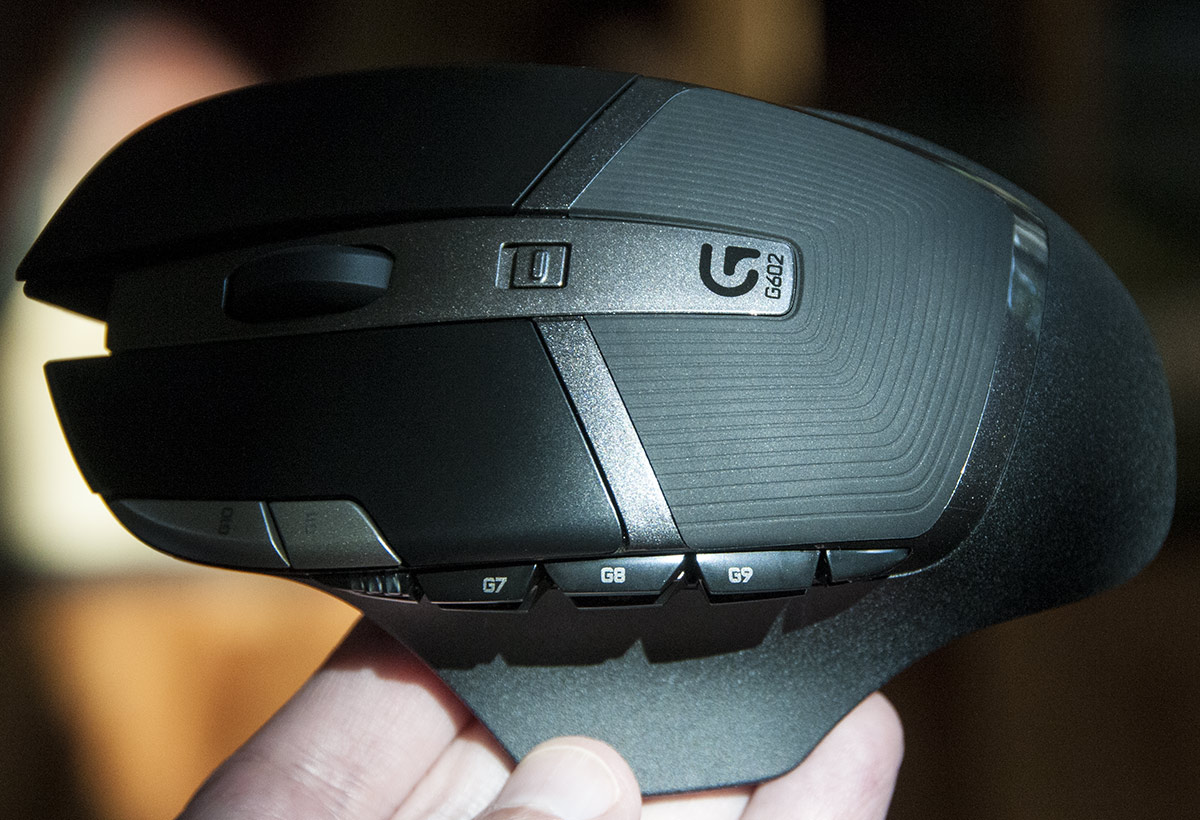 Is there such thing as a wireless mouse that hard-core gamers will use? The Logitech G602 wireless gaming mouse is the company's latest attempt to convince gamers to cut the cord, but is it fast and responsive enough to cut the mustard?
Before I answer that question, let's just wrap a hand around this beautiful mouse for a few minutes. It's a medium-sized mouse that fits perfectly in my medium-sized hand. Its surface is just grippy enough, not too smooth and not too rough, and the sound and feel of its click is excellent — Logitech perfected that crucial characteristic with its mice long ago.

The
G602 ($79.99 retail)
is packed with gaming features, including 11 programmable controls. The best of those would be the six perfectly positioned buttons on the left side. Unlike other gaming mice from
Razer
and others, these buttons are easy to find, even in the heat of battle. Instead of rows of flat buttons, Logitech designers chose to create buttons that are more like ledges, and they are in exactly the right place for your thumb to raise up a quarter inch and feel which one of the six you'd like to select. Nicely done.
Like most gaming mice, the G602 lets you change its sensitivity on the fly, giving you five different DPI settings that are adjustable via a couple of conveniently located buttons just to the left of where your index finger rests. With a few clicks, you can go from 250dpi to 2,500dpi in an instant.
Logitech touts the G602's long battery life, quoting 250 hours of use in performance mode, and 1,440 hours in endurance mode. For me, the difference between the two was slight. Choosing conventional batteries rather than rechargeables could be a controversial decision for Logitech, but some gamers would rather immediately swap out batteries than wait for a recharge cycle. Given the clear indicator of remaining battery power, I don't see this as a problem if users check battery power regularly. If this is a dealbreaker for you, you'll want to opt for the top-of-the-line of Logitech gaming mice, the G700S ($99.99 retail), which is not only rechargeable but offers gives you a choice of wireless or USB connectivity as well.
In my testing, I found the G602 to be delightfully responsive and accurate. However, I'm not sure the most serious gamers will be convinced it's as good as a hardwired mouse. It doesn't feel laggy in fast-paced situations, but there were a couple of times when I felt a subtle hesitation. You would have to be extraordinarily picky to notice it, but it was not quite as perfect as a wired mouse I regularly use.

If you're a hard-core gamer, you might want to give this mouse a try, just to see if it's going to be able to keep up with your gaming style. For me, it is just fast enough to use for gameplay, finally bringing the responsiveness of a wired mouse and the convenience of a wireless into one beautifully-designed and ergonomically correct package. It might even convince some seasoned gamers that wireless gaming is here to stay.
Images: Charlie White