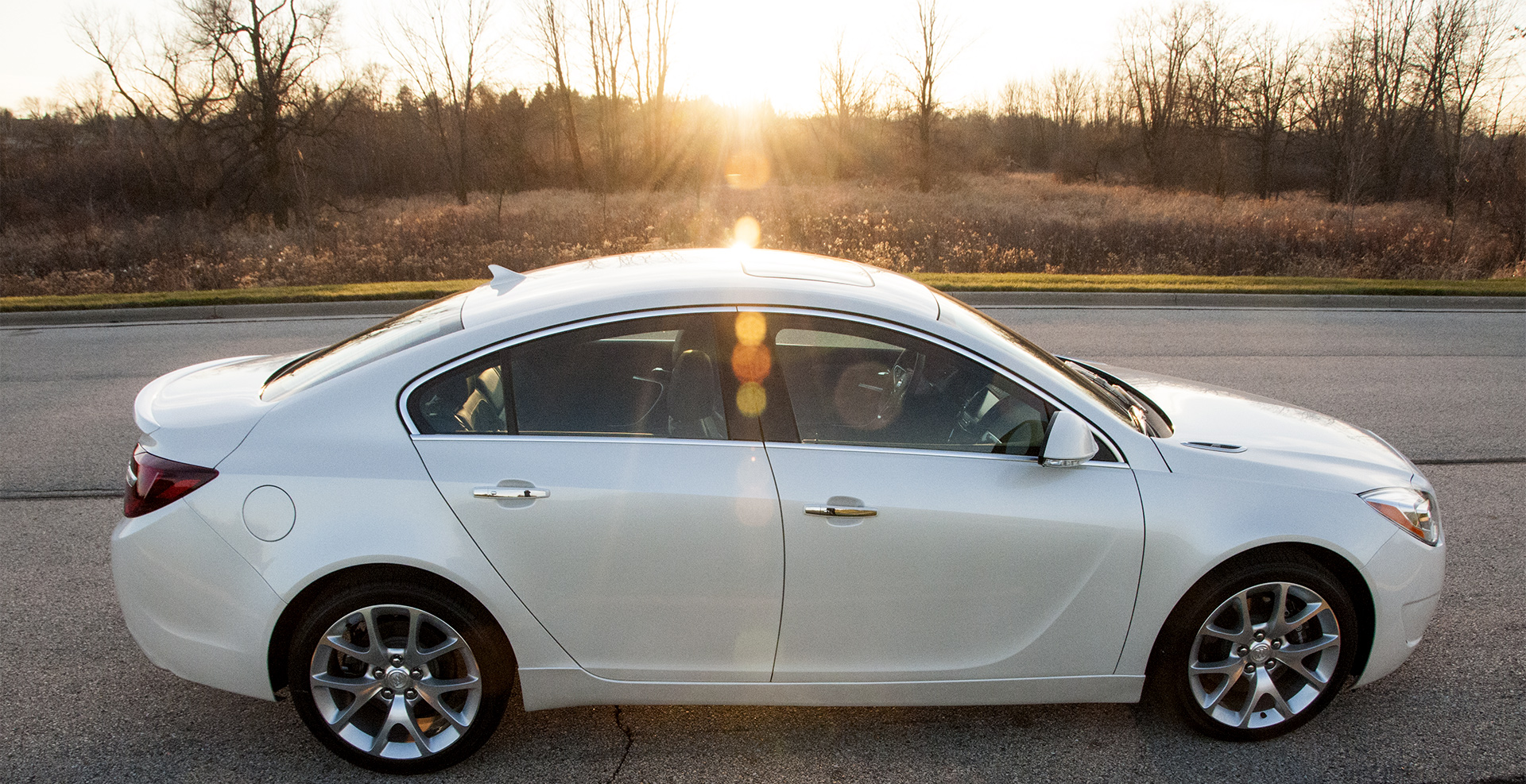 The 2014 Buick Regal GS is bristling with high-tech and performance features, aimed squarely at European luxury sport sedans such as the Audi A4. It promises the speed, handling and comfort of those coveted Audis, Mercedes and BMWs for a lower price.
The company brought a 2014 Buick Regal GS with almost every available option to the Midwest Test Facility, giving me a week to put it through its paces. How does it measure up to those fancy European sedans?

Before we tour the boatload of technology inside, let's first take a look at the transportation aspect of the Buick Regal GS. From my first drive in the car to my last trip today, I was consistently impressed by the solid feeling and precise handling of this muscular four-door sedan. Nope, this is not your granddaddy's Buick.
I was immediately impressed with the acceleration of its 2.0L, 259 hp turbo power plant (full specs here), blasting this medium-sized road rocket from 0 to 60mph in 6.8 seconds. That feels fast. The $44,775 vehicle accelerates just .6 seconds slower than its chief competitor, the similarly priced Audi A4.
On the open road, I was surprised by the quietude of this beast — all I could hear was a muffled roar when I put the pedal to the metal. Even as the Regal assertively pressed my back against its comfortable seat, it still felt positively civilized. And when it was time to stop, its formidable brakes seem to defy the laws of physics, stopping the car in a far shorter distance than I had anticipated.

Of course, its impressive performance was no match for the sheer athleticism of the high-end
Audi S6 I reviewed
a few months ago, but then that car costs almost $90,000 and had 400 hp under the hood. Even though you could buy a pair of Buick Regal GSes for that price, the Regal has a similar pedigree. It feels like it could keep up with the lower end of the Audi line. After all, the Regal is actually a German car — an Americanized version of a German sedan, the
Opel Insignia OPC
(German company Opel is a GM subsidiary).
I had even more fun when I pressed the GS button on the dashboard (see gallery above), changing the car's handling characteristics and 6-speed automatic gear shifting to make it practically race-ready. Its suspension immediately felt firmer and tighter; it felt like it had more torque, and the steering felt more responsive as well. Since that first encounter with the magic GS button, I made sure to press it every time I drove the car.
There's a downside to that impressive acceleration — in my testing I was only able to get about 19 miles per gallon of combined city and highway driving. That's understandable with performance like this, but if you're looking for better fuel economy and you like this Buick Regal, opt for the "mild hybrid" version that gets 25 miles per gallon in the city, 36 mpg on the highway.
About midweek we had a snowstorm here in Wisconsin, and that gave me a chance to test the Regal's excellent all-wheel-drive (AWD). The technology that applies power to each of the four wheels is different from that of other manufacturers such as Audi. Instead of applying brakes to specific wheels, this electronic Haldex system applies torque to individual wheels, according to the way you're driving at that instant. It was so surefooted, it gave me a tremendous amount of confidence while driving in snow, and also helped the cars handling on dry pavement. It's the best all-wheel-drive of ever tested, even better than Audi's.
Once it had proven its performance bona fides, I turned my attention to the upgraded interior. Once I had properly adjusted its ultra-comfortable (and thankfully heated) power seat, it felt like this car was made specifically for me, fitting perfectly. The driving position was one of the best I've experienced, where controls, pedals, steering wheel (which was also gloriously heated) and armrests were each located in exactly the right place.
In front of me was an array of technology that was understated, with far fewer buttons and confusion then most other cars of this era I've tested. That's not to say all its tech is not powerful or configurable — it's just easier to use than previous models from GM and others.
I paired up an iPhone with the car's infotainment system, and immediately I could make hands-free phone calls from my own phonebook. The Regal's speakerphone is excellent, serving up better sound from a smartphone than most cars with this feature.

I was disappointed in my inability to use the car's included Pandora app via Bluetooth with my iPhone. Alas, Pandora would only work when I plugged my iPhone into one of the car's pair of USB ports inside the center console. Once connected, though, Pandora worked like a champ, rocking the solid-sounding 9-speaker Bose sound system with aplomb.
Another delight was the navigation system, featuring a soothing woman's voice. This gal was the first car-based navigator who was able to recognize my complicated home address and navigate me there via speech recognition. Bravo.
Beyond the infotainment system, a highlight of the car was its driver confidence package, which takes the idea of cruise control to the next dimension. Similar to the system from Audi, it gives you helpful information with warnings of a car in your blind spot (which shows up as a flashing icon in either the side mirrors). It also warns you if you are not staying in your lane, which worked most of the time for me, except for when I was driving on older roads with less well-defined painted lines.
There's even a collision preparation feature that hits the brakes if you're about to run into the car in front of you. But my favorite feature — one that's common in many cars these days — is the adaptive cruise control that lets you choose the distance between you and vehicles in front of you. Once you have that set, the car will automatically slow down when there's a car in front of you, accurately tracking its speed. This is an especially welcome feature when travelling long distances.
I like this car. I wish its styling were more sporty and futuristic, but making up for that is the high quality that is evident from stem to stern. Its fuel-thirsty nature takes it out of economy territory, but if you buy a car like this instead of a high-end European luxury sport sedan, you may consider it a bargain, especially given its impressive performance. Highly recommended.
Images: Charlie White