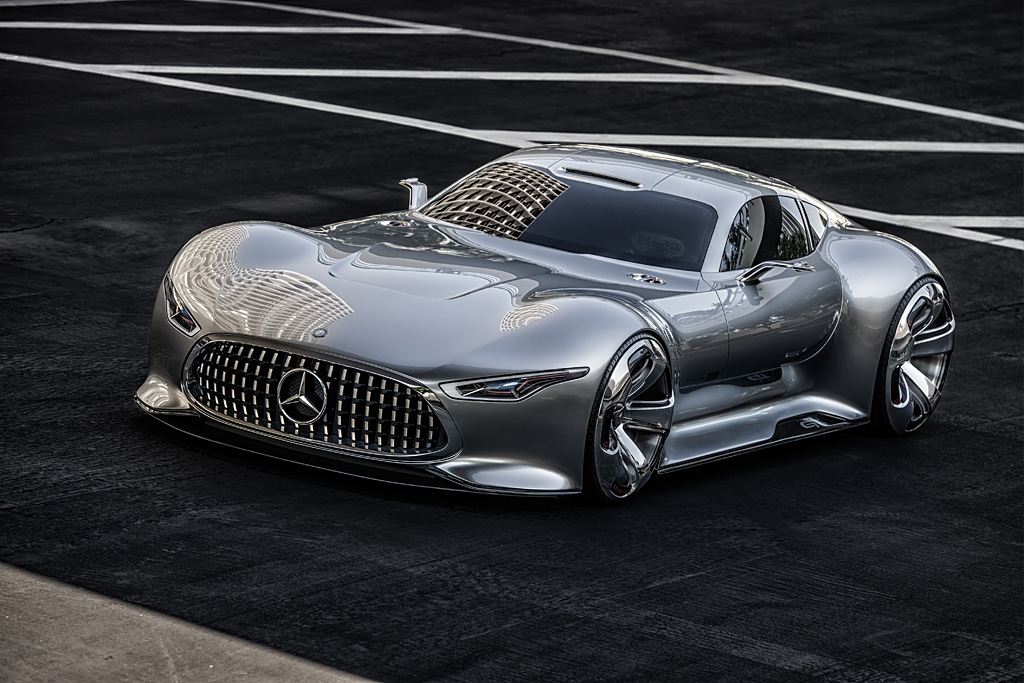 When game developer Polyphony Digital challenged car manufacturers to design spectacular and futuristic vehicles for its new Gran Turismo 6 driving game debuting in December, Mercedes-Benz took that seriously.
Not only did the German automaker design this super sexy concept car to debut in the upcoming game, it actually built a 1:1 scale model of the AMG Vision Gran Turismo, and is flaunting it at a press event at its Sunnyvale, Calif. headquarters.

This must be the sexiest model car on earth.
Designed to simulate a snarling cat about to pounce on its prey, this roaring beast has more than just a pretty face. If it's ever built in the real world, it'll be packing 577 horses under the hood, cranking 590 lb-ft. of torque to press you firmly into the seat when you put the pedal to the metal.

And look at that grille, festooned with LEDs to psych out any poor soul in whose rearview mirror it suddenly appears.
Mercedes isn't saying how fast this road rocket might go, but it looks like it's going fast even when it's sitting still. If it's ever built, Mercedes' coveted AMG designation suggests it will be equally quick at emptying your bank account.
If Mercedes-Benz can market this lovely work of art sometime before self-driving cars take over the planet, I think the company will have itself a winner. Cars just don't get any more beautiful than this.
Images: Mercedes-Benz, Polyphony Digital