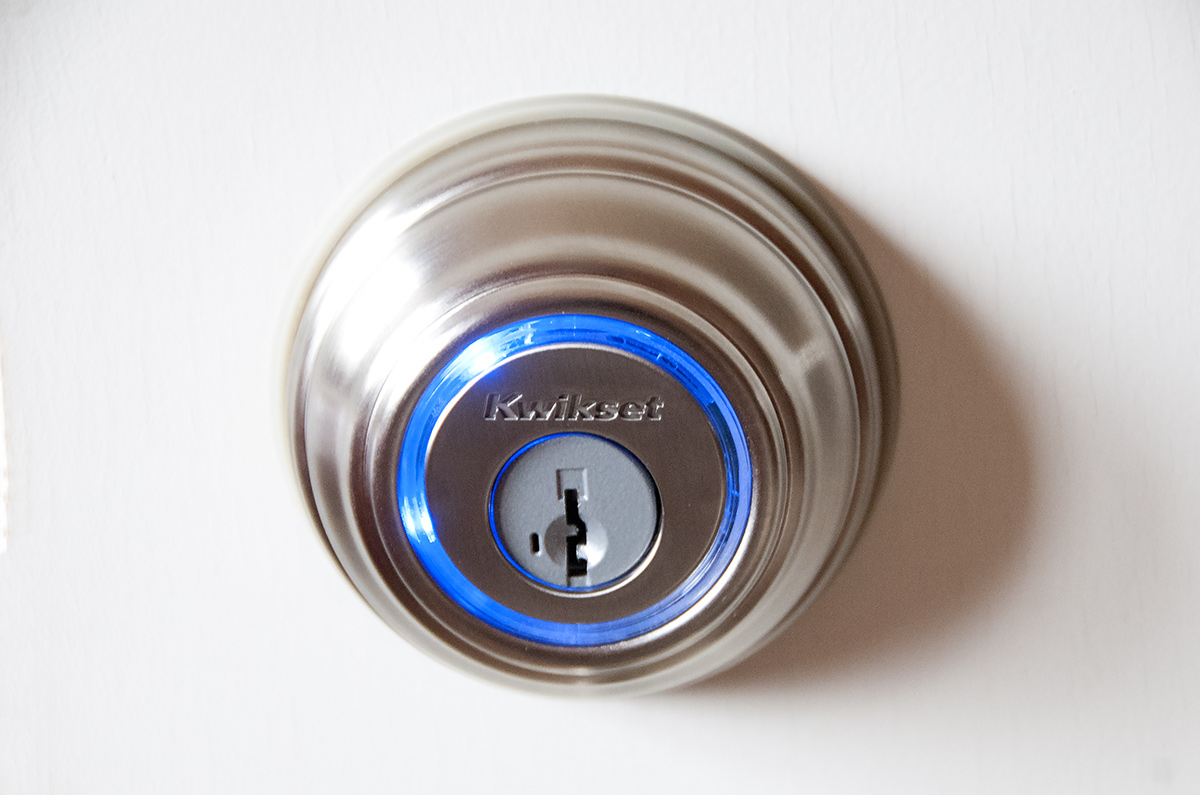 How would you like to do away with house keys altogether? Kwikset Kevo does just that, letting you unlock a door by touch, recognizing you as long as you have your iPhone or a special key fob in your pocket. Sounds too good to be true. Let's put it to the test.
Kwikset got off to a rough start with me. The company sent me one of the first Kevo units — alas, it was defective, and only after I'd gone through a half-hour of installation and tinkering did I receive an email from Kwikset notifying me that this new product didn't work.

The company helpfully let me know that when the housing of this lock was touched, it wouldn't respond. I had already discovered that, but was wondering if it was something I was doing wrong. It wasn't. The lock was defective.
A few days later, a replacement unit arrived, and I uninstalled the defective unit and replaced it with the new one. This time, it did work. Its ring of multicolored LEDs lit up when I touched the lock housing, responding as it was intended.
The lock is available in brass, dark bronze and the brushed-nickel color I tested. It looks similar to an ordinary deadbolt lock, with its ring of LEDs barely visible. Its indoor housing has a plastic cover that looks metallic from a distance, and overall, its high-quality look will blend in with the decor of even the finest home.
After going through the installation process twice, I got pretty good at it. I'm decidedly unskilled as a handyman, but installing the Kevo will be easy for those familiar with locks and general home repairs.
Once I had it properly situated, its LEDs were lighting up with their various colors, and it was making its noisy beeps and a loud grinding noise as it opened and closed. I was thankful to see that those unusually loud beeps were easily silenced with a group of industrial-looking DIP switches inside the unit.
After installation, you must go through an exceptionally tedious calibration routine. This is necessary so the lock will be able to discern the difference between a smartphone or fob that's inside your house or outside. It's smart. If you have your smartphone within Bluetooth distance inside the house, no one can simply walk up and touch the lock and gain entry into your home.
Calibrating a couple of iPhones (it doesn't work with Android yet) and the key fob was a lot more difficult than I anticipated. It involves standing at arm's length from the exterior side of the lock, with an iPhone in a front pocket, and then touching the lock three times as it goes about its calibration routine. I performed this routine until the Kevo iPhone app confirmed that calibration was complete. It took me at least 30 attempts. Ouch.
On the positive side, the Kevo app is decidedly slick. It lets you electronically send a key to any of your friends, housekeepers, dog walkers, plant waterers or anyone else you'd trust in your home (five of these electronic keys are included free, additional electronic keys are $1.99 at the App Store), and then you can designate the hours you will permit entry, and cancel those keys whenever you want.
"Hey, this could be cool," I was thinking as I finally got it working. Not so fast.
First of all, I don't want to let anyone in my house when I'm not here, so sending a key to someone is not useful for me. But your circumstances might make this a useful feature, perhaps enough to make this product worth it for you.
Second, there's a deal-breaking flaw with this system: It takes too long for it to work. At its quickest, it takes about three seconds to either lock or unlock the door. That might not sound like much, but that's a best-case scenario.
Worse, after you tap the side of the lock, you have to wait for the lock to finish moving the deadbolt until you can actually walk away from it. Its connection with my iPhone's Bluetooth LE (low-energy) signal was too weak for me to be able to walk to my car after I had tapped the lock. That meant I had to stand closer to the Kevo until it was finished locking, and that often took in excess of 10 seconds. That three-second time was only a best-case scenario.
When I return home, I have to wait at least three seconds for the door to unlock. That might not sound like much — but I can open my door with the lock's included key in less than a second. Sure, I must take the key out of my pocket, but that takes about a half a second, and unlocking the door takes another half-second.
What the heck is the reason for having this, if it takes longer to get into your house and doesn't really make your life any easier? Will I be proud to show off this technology to my friends? No. They will probably wonder why this exists as well.
When you can manually perform the task three times faster than this techno-wonder can with its spinning LED lightshow, why you would want to spend $219 for the privilege of doing so?
If you feel like it might be worth it, you'll be happy to know that this lock is bump-proof, and its electronic security is top-notch. Even so, it can certainly be picked, but like most locks, it will keep the honest people out. If you already have Kwikset keys, you can re-key this lock so you can use the same key for it that you do for other locks. (Although you have to do some serious digging to figure out how that is accomplished.)

After going through the ordeal of installing the
Kwikset Kevo
twice, calibrating it dozens of times and waiting around for it to do its electronic magic, I have to keep asking myself the question for which I can't come up with a good answer:
Why?
This tech is not quite ready yet. It's flaky. If it were able to instantly lock and unlock the door, or could even unlock the door faster than I could with a key, I would like it a lot more. But it can't.
Not recommended.