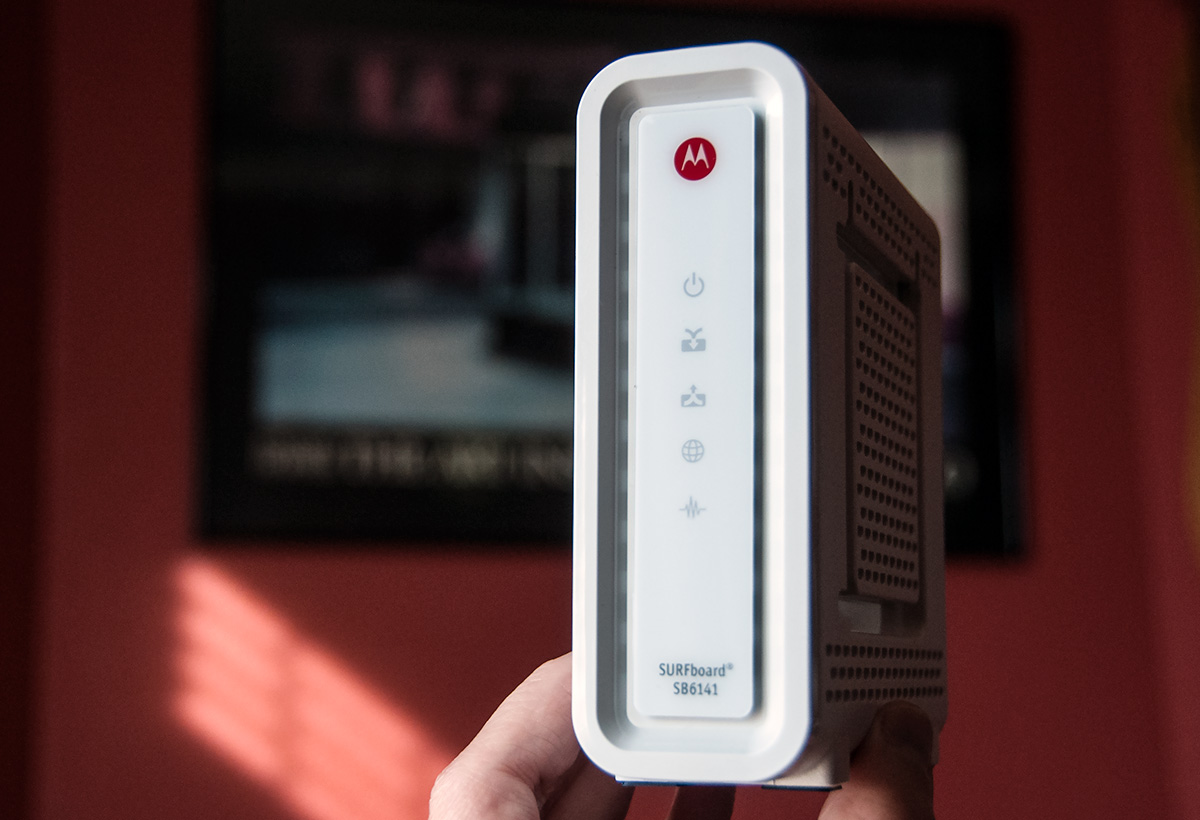 If you're getting your broadband service through a cable provider like Time Warner, Comcast, Cox, Charter, Mediacom or many others, you're probably renting a cable modem.
When I found out I could stop paying that $5.99 monthly rental fee [update 7/1/15: now it's $7.99, a 33.3% increase in two years!] by buying one myself and then returning the rental cable modem to Time Warner, I picked one up for $82 and stuck it to The Man. I'll never pay a cable modem rental fee again, and neither should you.

The various cable providers charge different rates for renting a modem. The $5.99 I was paying each month for a Motorola Surfboard modem meant that in about 13.7 months, I'll save enough money to pay for the modem I bought. Over five years, I'll save a total of $277, including the cost of the new modem.
Just about any DOCSIS 3.0 (or even the old-standard DOCSIS 2.0) modem will do, but to be safe, check your cable provider's website for a list of modems that are compatible with its network. Most providers will let you know which modems will work with their systems, but if you subscribe to any of the providers listed below, I've already found the links for you:
When I saw the long list of modems compatible with Time Warner's broadband service, I did lots of poking around the Internet to figure out which model people liked best. Because I have two routers with the latest Wi-Fi technology on board (I recommend the Netgear AC1750), all I needed was a simple modem without Wi-Fi.
I decided to go with the well-reviewed Motorola Surfboard SB6141, and I found one for the unusually low price of $79.95. I found out later there are two versions of this modem — one is black and the other white. Some customer reviewers said the black one was not as reliable as the white one for some reason.
I shrugged that off, ordered the slightly cheaper black SB6141 and received it two days later. After I had spent two hours on the phone with Time Warner trying to get it to work, I regretted that decision. For some reason it wasn't connecting with Time Warner's network. I sent it back, and ordered a white one that cost me a couple of bucks more.




This white one is the
ARRIS/Motorola SurfBoard SB6141
, which has the same innards but is clad in a gleaming white plastic case. Its most pleasing attribute (besides the eerie blue glow emanating from its vented sides — see the last pic in the gallery above)? It worked. I plugged it in, connected it to the coaxial cable and my network, called Time Warner and gave them its MAC address printed on the bottom of its case. In less than 10 minutes I was up and running.
I took the old rental modem back to Time Warner and immediately began enjoying my $5.99 monthly savings.
The simplicity of this modem seems unusual to me. I couldn't find a way to enter a password, and it just started working without any configuration whatsoever. There was nothing to configure. Because I like to tinker with routers, I was slightly disappointed, but to those who are uninitiated to the mysteries of computer networking, I'm sure that lack of the need for any configuration would be a godsend.
The modem is future-proof, too. Time Warner's fastest service available in this area, which it calls "Road Runner Ultimate," delivers 50Mbps (megabits per second) downloads and 5Mbps uploads. This modem is capable of more than six times that speed, a dream likely far off in the future for a slowpoke network upgrader like Time Warner.
Best of all, it's going to save me hundreds of dollars over the next several years. If only I'd known about it sooner.
Images: Charlie White