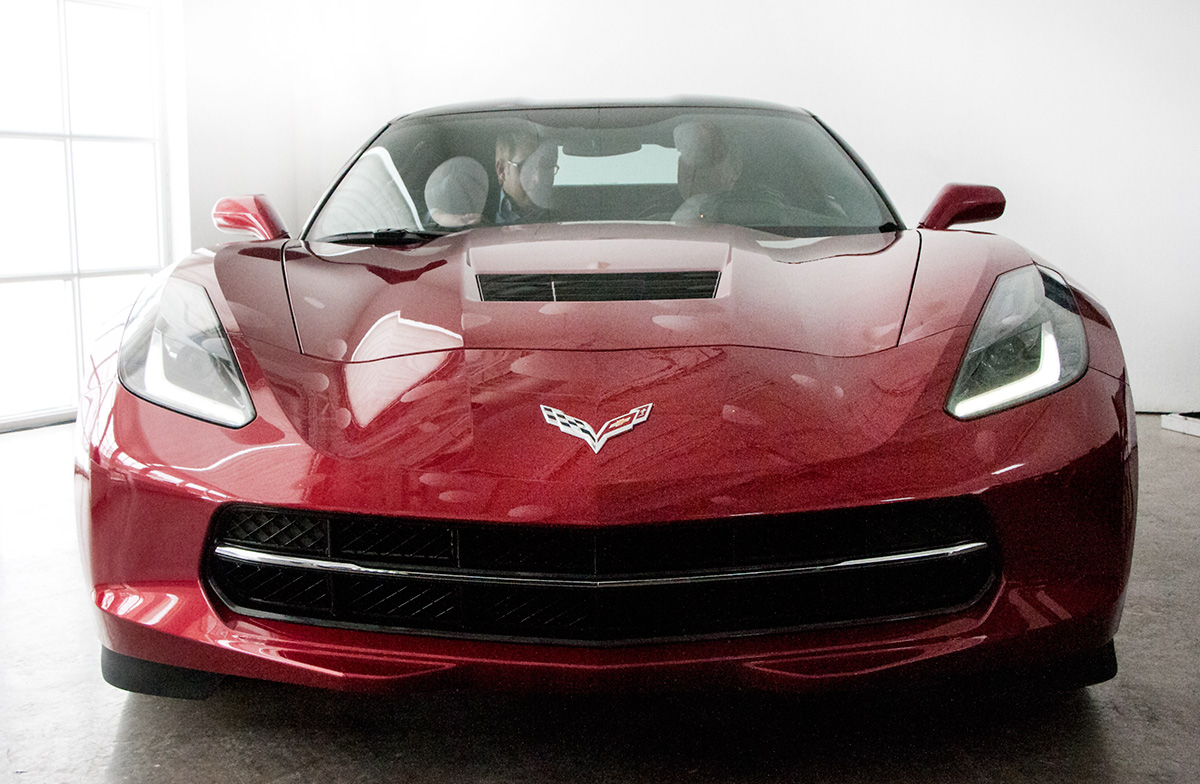 The Chevrolet Corvette Stingray took a huge leap in performance and styling in 2014, but its interior technology still lags behind. Chevy aims to fix that with faster 4G LTE connectivity and apps in its 2015 Corvette Stingray, and the company gave me a hands-on demo.
If you've used 4G LTE on a smartphone, you already know how different it is from run-of-the-mill 3G connectivity. It's so fast, it makes your smartphone feel like it's plugged into a broadband connection.

Auto giant GM plans to build in this wireless high-speed connectivity later this year in its Chevy Corvette, Impala, Malibu and Volt cars.
Before we get started with the hands-on pictures I took, just look at the sleek and aggressive beauty of the Corvette Stingray. This is the 2014 model that GM was using to test this new 4G LTE and apps system. I especially like the car's deep red color:
What does 4G LTE do for you? If you've ever worked with a wireless hotspot before, you'll know that it uses cellular data to give you wireless connectivity anywhere. The hotspot makes it so you can use any Wi-Fi device to connect to the Internet. So 4G LTE lets you and your friends wirelessly connect tablets and smartphones to the Internet while sitting in your car — without using your own data accounts. More importantly in this context, it can bring live data directly to the vehicle itself without the need to use a smartphone for its connectivity.
GM will be pairing up with AT&T, offering what Chevy's Chief Infotainment Officer Phil Abram told me would be the largest deployment of 4G LTE in history. "This is been a science project for us," Abram said. He added, "We're going to have it in over 30 models."
The faster wireless connectivity will be available in a variety of data plans (oh no, I start getting nervous any time a company makes a service available in a "plan"). The idea is, your car will be treated as if it were a separate smartphone, where you must sign up for a 4G plan that you'll pay for by the gigabyte. If you're not going to be using it much, Abram said you'll be able to buy what he called a "day pass." He couldn't give me any information about pricing yet.
So what does this connectivity give you? Well, you're not going to be able to have your smartphone mirrored on the car's infotainment screen. That wouldn't make sense, because of serious driver distraction problems. Imagine, for example, that car following you too closely on the highway while texting, or worse, playing Angry Birds.
GM's going to offer an app store it calls the "App Shop," and the company showed me a tiny handful of the apps it's working on adapting. Abram said this is not going to be a gigantic app store, and emphasized that GM is going to carefully screen each app to be sure it's not too distracting for drivers.
I took screenshots of the apps GM showed me in a lovely new Corvette Stingray, and while it's a decidedly paltry group of capabilities introduced so far — and most of the promised apps weren't working at all — the fact that GM has opened an app store and is inviting developers to create new apps shows that the company is making an effort in this category, albeit slowly.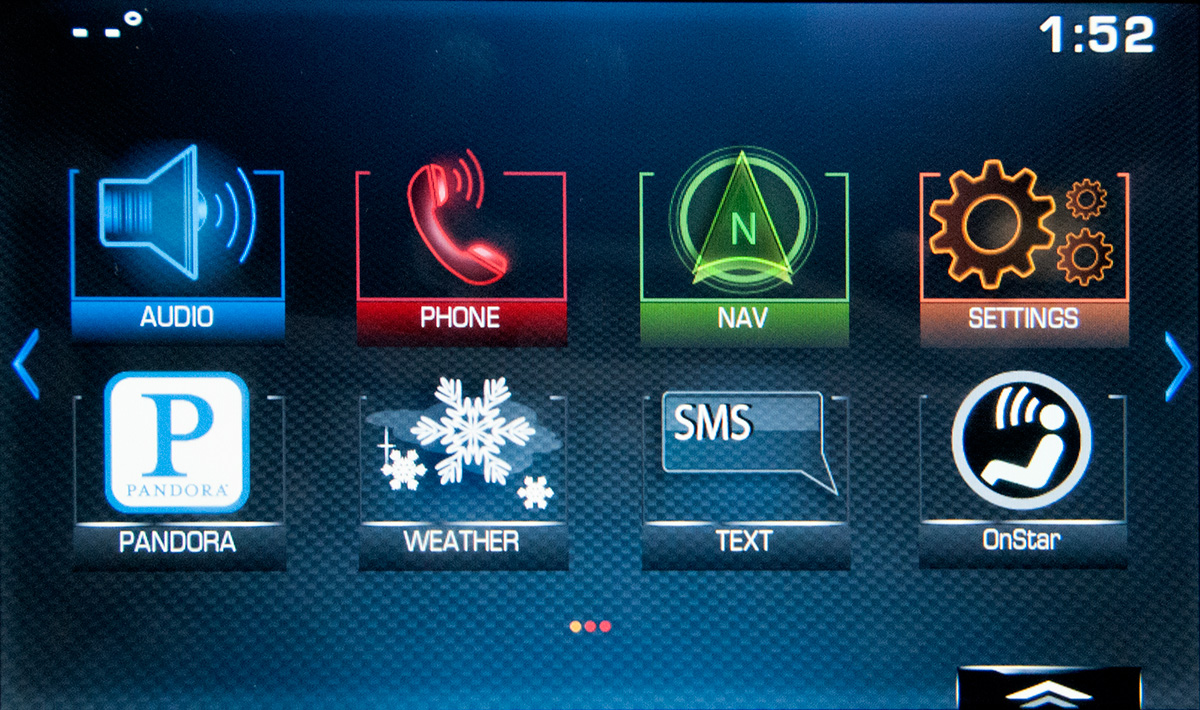 Here's the main screen. You can arrange these icons however you'd like on the Corvette's touchscreen. Note the Pandora app that's been there for several years. GM says this version is not part of the new App Shop, because it's not an installed app, but depends on your smartphone to function. To use Pandora on iOS, it will still be necessary to physically connect your phone to the car via USB. However, as it has been for a while, with Android, you can use Pandora via Bluetooth. Chevy is working on an app version of Pandora that will work with this new 4G LTE system, but didn't say when that would be ready.
---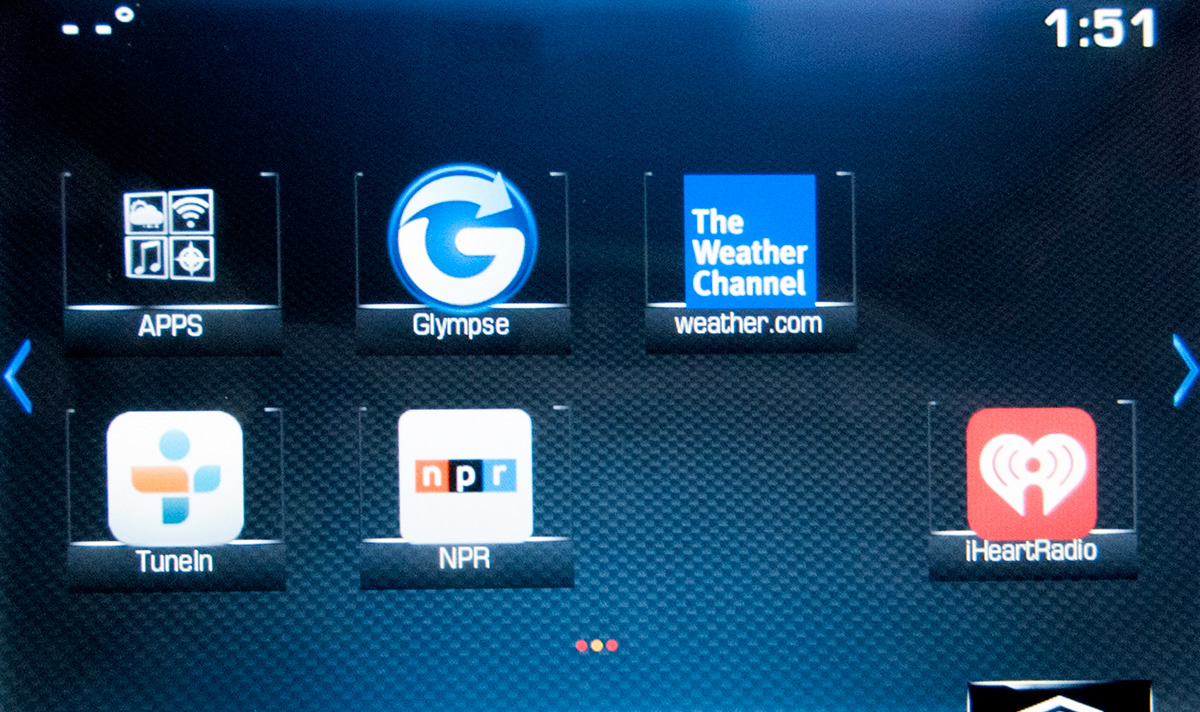 On this screen are some of the first new apps, such as location-sharing app Glympse, the Weather Channel's Weather.com, Internet radio station app TuneIn, NPR with its 900 public radio stations, and Clear Channel's iHeartRadio that offers up 1500 live radio stations. In our demo iHeartRadio was doing its job of tuning in a radio station, but the rest of its interface wasn't ready.
---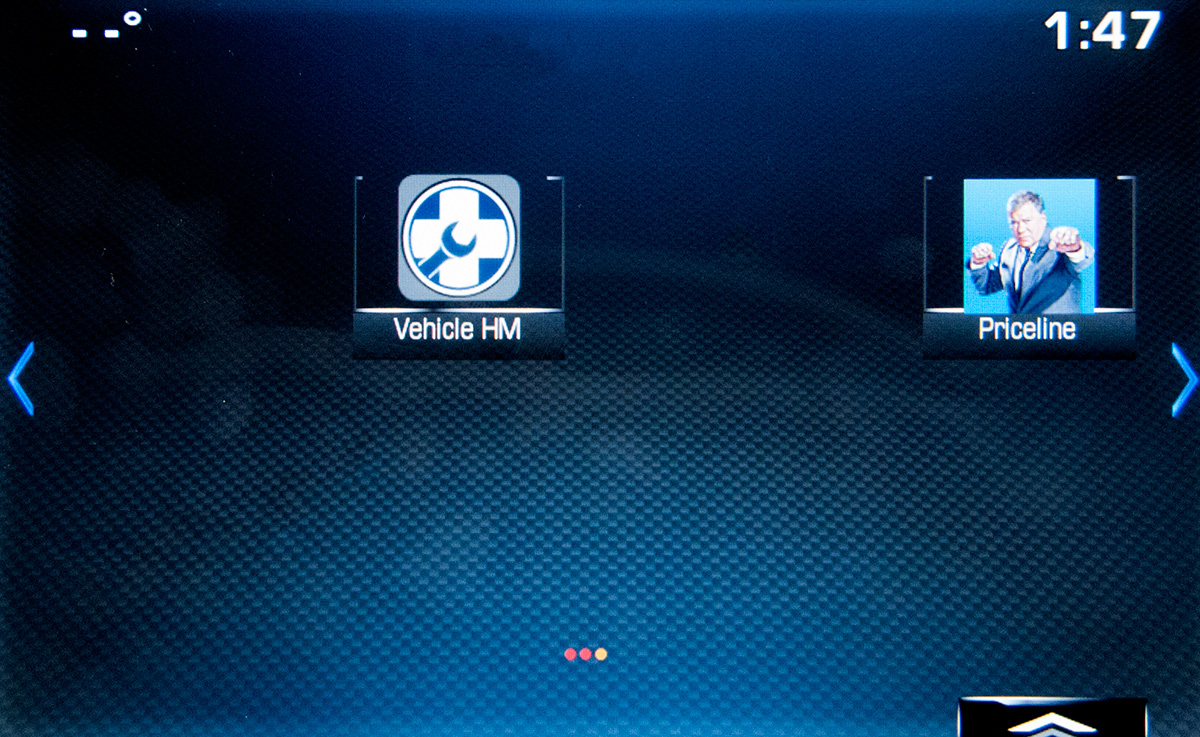 Two other apps GM had ready for demo were Vehicle HM, an on-demand maintenance /vehicle diagnostic app, and Priceline.com, an app that lets you search for a hotel room just like you can on its website. The company didn't show me the Priceline interface, either.
---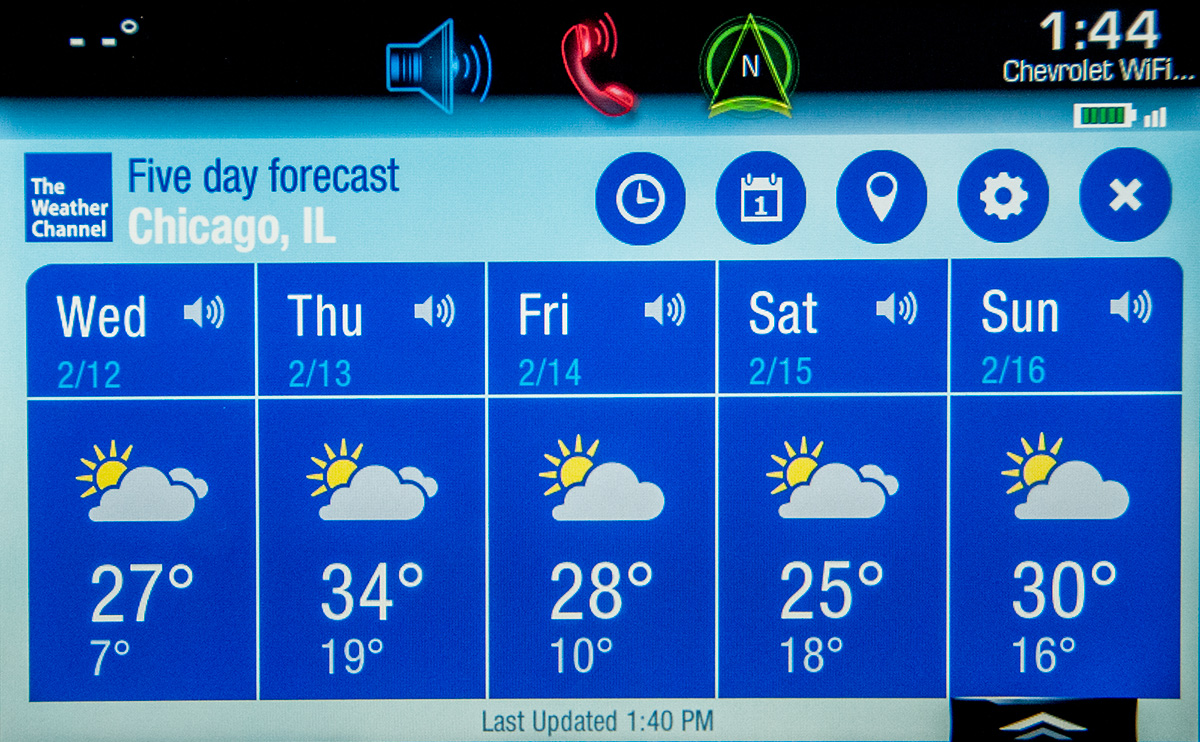 One of the most refined apps so far was Weather.com, which showed a live-updated five-day forecast and can read the forecast to you, allowing you to keep your eyes on the road.
---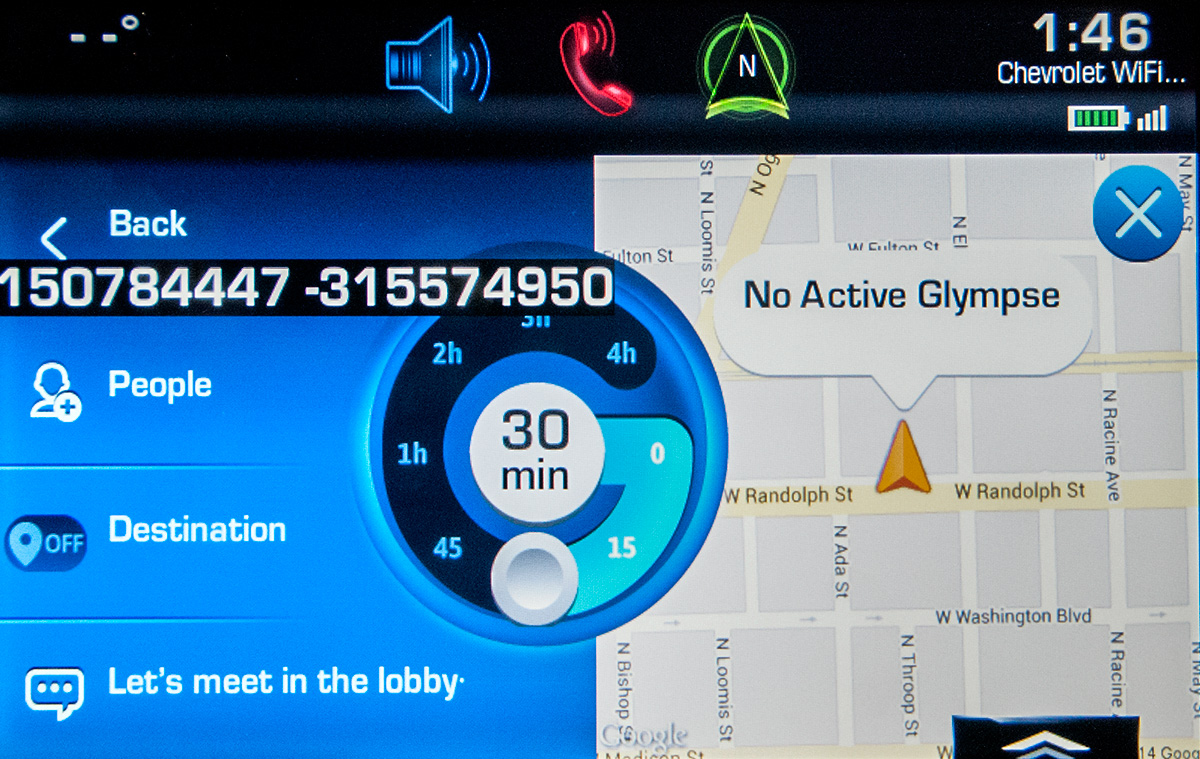 I also took a quick look at Glympse, an app that lets you meet up with people and track their locations. Although the app wasn't fully functional, GM described how a user would find a contact in the address book, decide when to meet and then track each others' location.
---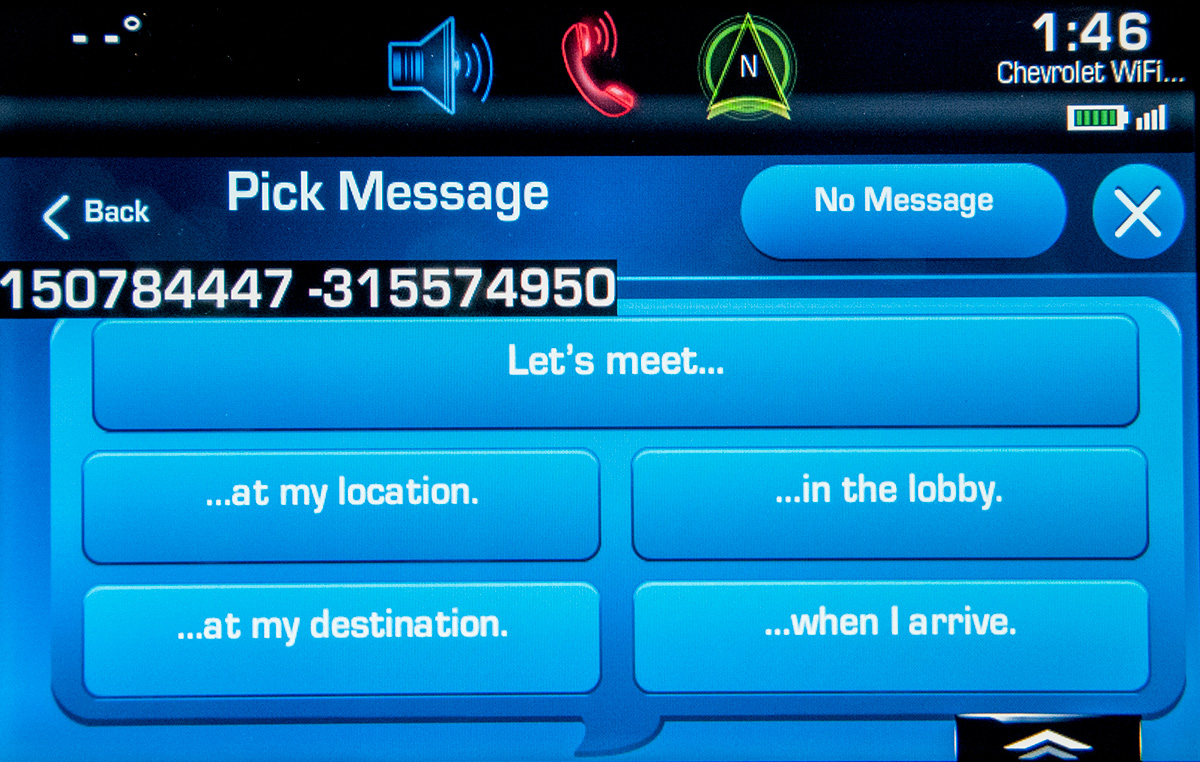 This screen on Glympse makes it easy to quickly arrange a rendezvous without having to type text. These five choices can be selected by glimpsing at the screen and pressing a single button.
---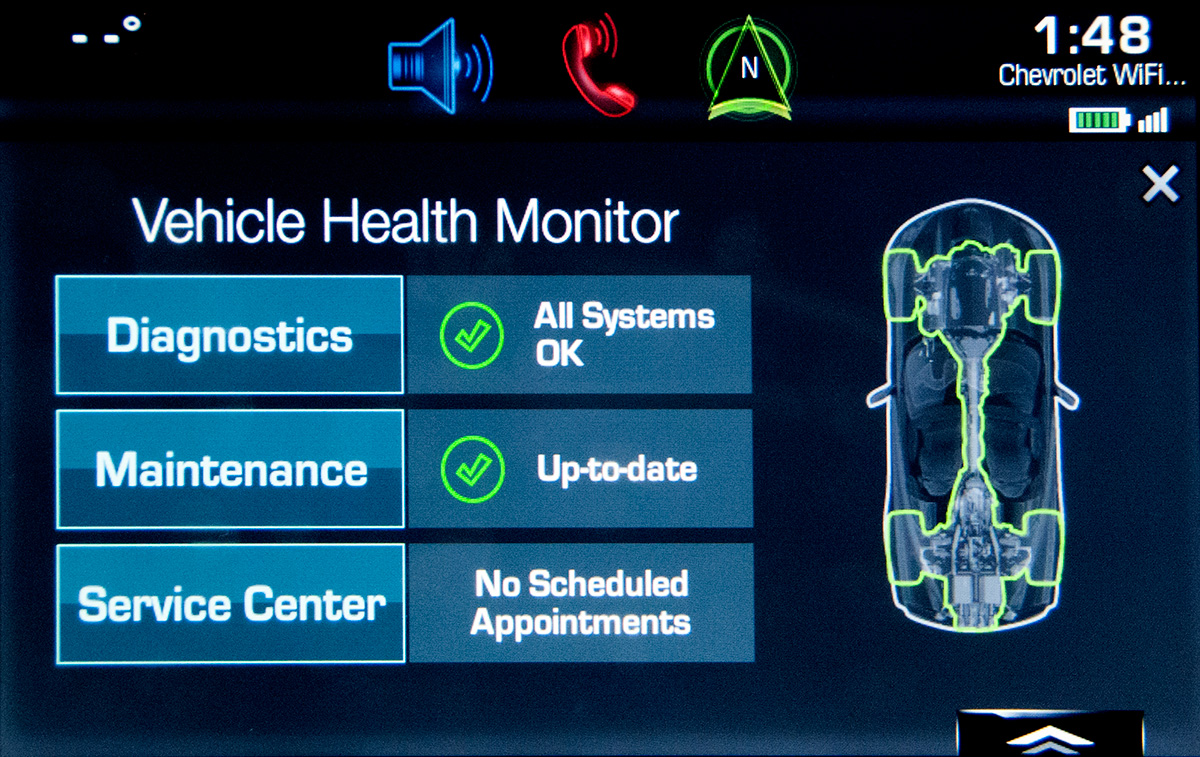 The most complete app at this early stage was Vehicle Health Monitor, which diagnoses your car's systems, lets you know if it's time for maintenance, and can even let you make a service appointment with your GM dealer. It looks a lot like the excellent diagnostics screen I liked when I reviewed the Chevy Volt.
---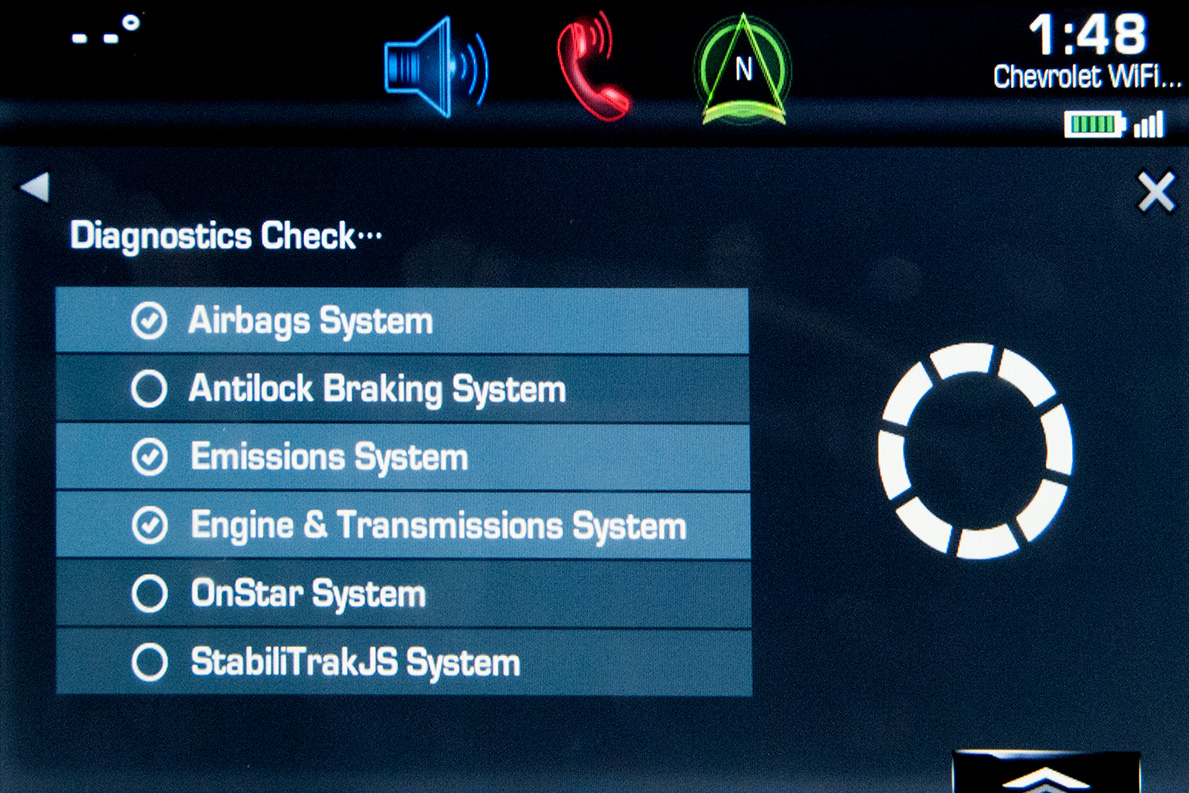 The app goes through a quick diagnostics check.
---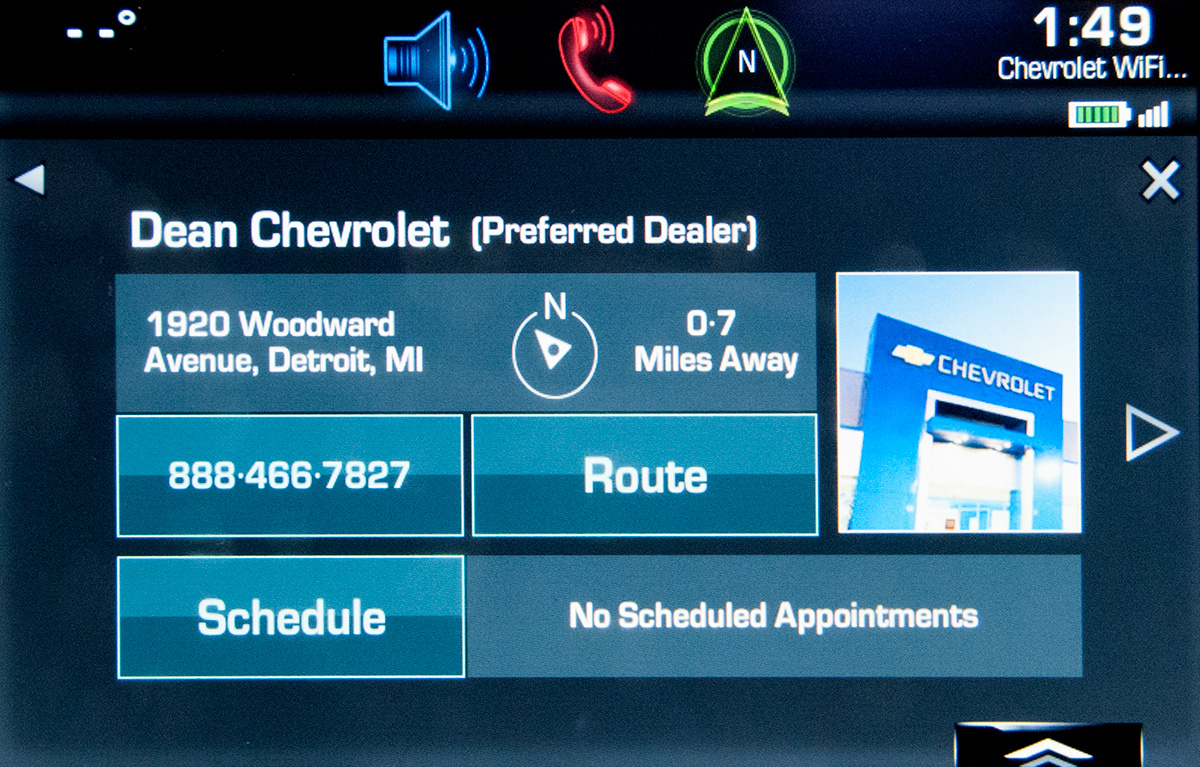 If you need service, the app helpfully shows you the shop's phone number, will show you how to get there on the car's GPS system, and lets you schedule an appointment.
---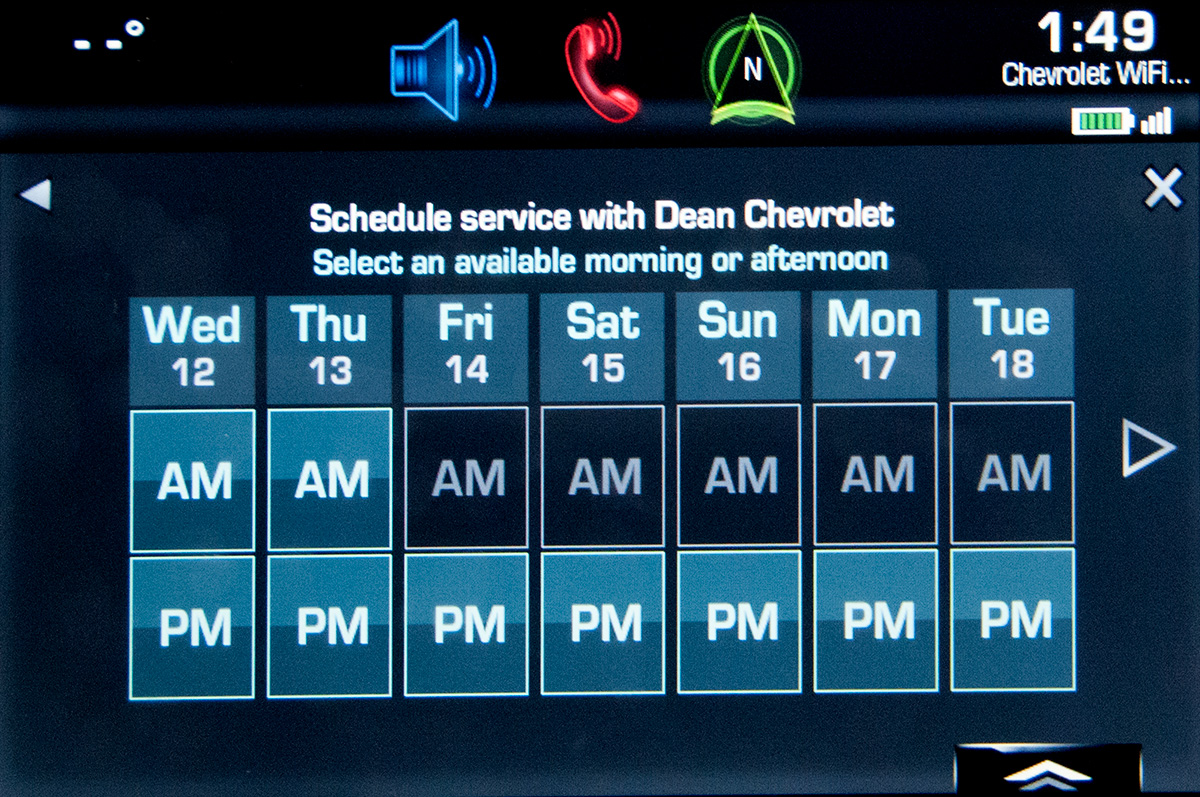 Here you can schedule a date for a service appointment…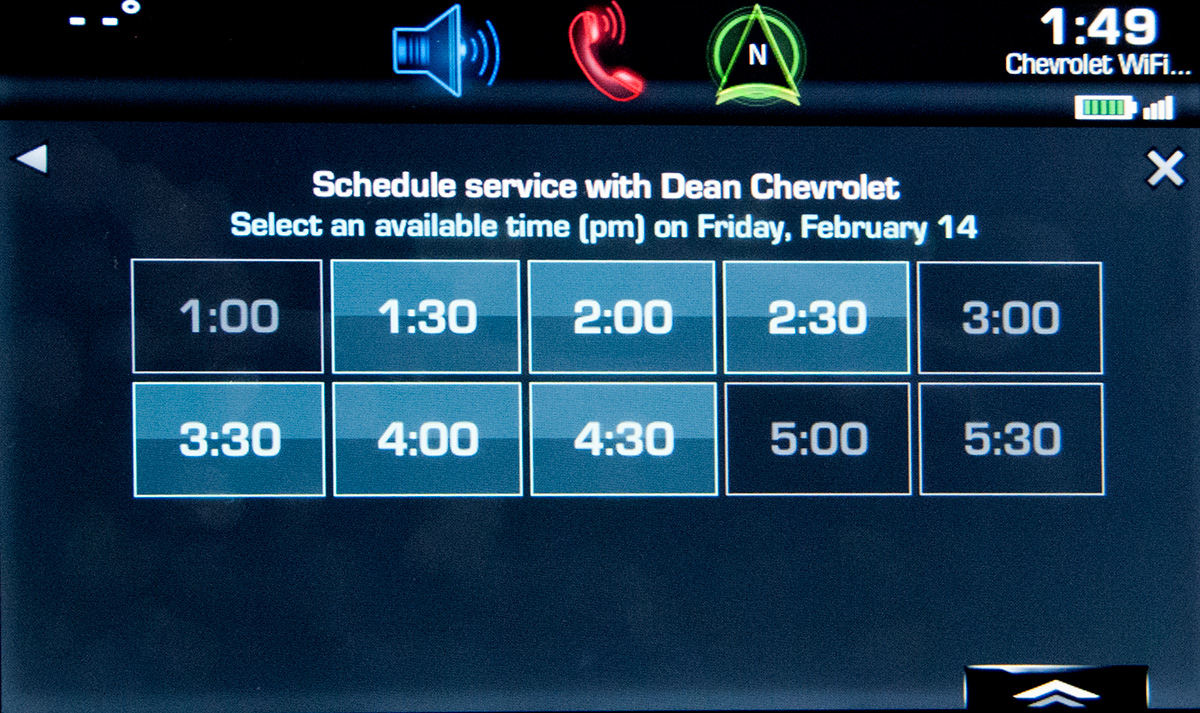 …and a time.
---
I've reviewed a car — the Audi S6 — with a fully-developed 4G LTE system on board, and I think it's tremendously useful. What I saw at this GM demo was a plan to develop a 4G LTE system whose downloadable apps make it even more useful.
I like the way the apps will be carefully selected to minimize driver distraction. They will be a useful update to the already technologically advanced Corvette, as well as the other 30 vehicles the company plans to equip with this technology.
However, GM's App Shop is in such a rudimentary stage, I can't see how the company will have much of it ready in time for the 2015 model year. With this demo, I think GM shows us that it's working on a system that could someday be tremendously powerful — but right now it's like we're looking at a newborn infant in his crib.
Whether that infant grows up to be a rocket scientist, a rock star or a doofus remains to be seen.