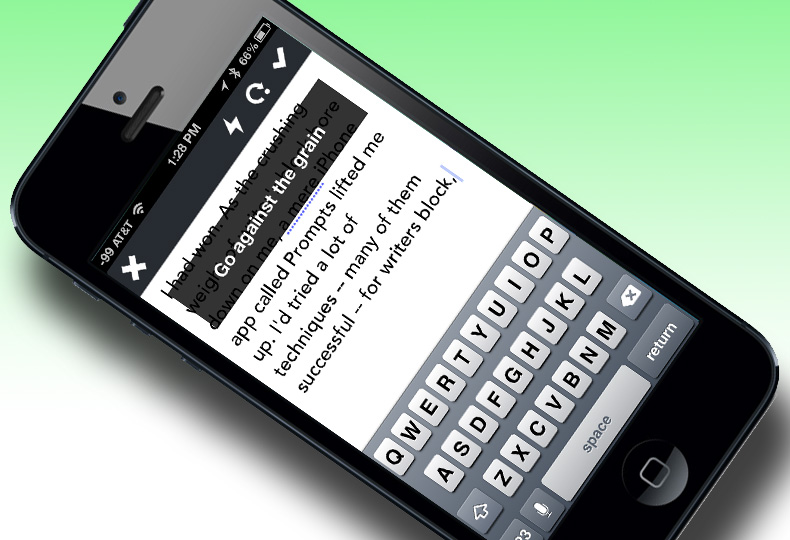 I had won. As the crushing weight of writer's block bore down on me, a mere iPhone app called Prompts lifted me up. I'd tried a lot of techniques — many of them successful — for fighting writer's block, and this little app by Tanner Christensen gave me one more reliable tool for fighting the scourge of The Great White Empty Page.

How did I get through writer's block this time? I started with the first three words of the paragraph above: "I had won." But I didn't think of that phrase — an app gave it to me. When Prompts ($1.99) showed me a dozen possibilities, for some reason that was the phrase that got me going. That's the way this app works. It feeds you magic words that will get you to start writing, and for me, they were only a few Prompts away.

Christensen said when he developed this technique for breaking through writer's block, he thought it would be effective as an app. He told me, "I realized that the best way to keep writing whenever I felt stuck was to ask myself questions or use creative prompts." I say, what better way to supply such prompts them in the palm of your users' hands?
I've tried Prompts in a variety of circumstances, and it works best when I simply feel like writing something, but don't know what. It's a simple app, where all you need to do is launch it, tap "press here to start writing" and then you're presented with a sentence that often catapults you beyond that loathsome brick wall and into the writing zone. Once you get started, you'll quickly find yourself in that coveted "flow state."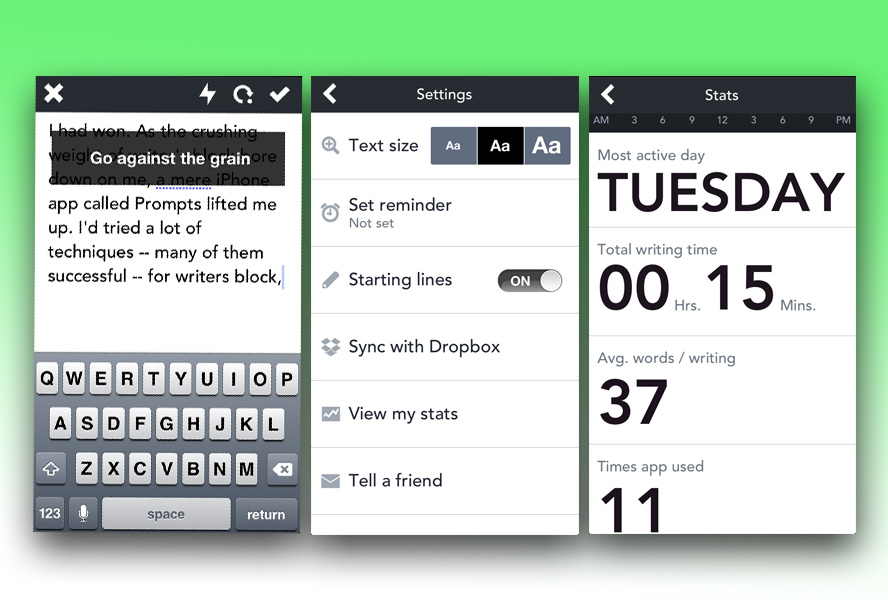 This app is a brilliant idea. If you can simply start writing something, writers block will go away. This is where Prompts will give you just enough momentum to get the flow going. There are 999 prompts included, and once you've gotten started, you can get even more help by tapping the lightning bolt icon. That drops down a suggestion you can adopt midstream, keeping that flow going right when you need it most.
I asked Christensen how he collected all those "starting line" phrases, most of which felt useful to me, like sure-fire idea starters for writers. He replied, "They are the result of a few weeks of brainstorming and actually writing."

He started out making an app for note taking that would call up prompts on demand, and says it worked "surprisingly well." He continued, "But I was still finding myself wanting to write often without knowing what to write specifically, so that inspired me to make the "starting lines" seen in the app as well — which users can disable if they want."
He did a great job. For someone stuck deeply into writer's block, the app might not help much, but for me — occasionally afflicted with a variety of writers block that usually fades when I start typing something — this was exactly what I needed.
Examples of the starting line phrases:
Right now I really miss
The sun came up above the
There are no sounds here, only
There's a shadow hanging over me, belonging to
I awoke in a bed that was not my own, but rather
If these don't get you going, you can keep pressing an icon for more, until you see one that sparks your writing instincts.
Once you've gotten underway, tap the lightning bolt icon and you'll get quick prompts, such as:
What's been done before?
What's implied?
How is everything disconnected?
When did all this start?
These prompts are the heart of the app, giving you a leg up when you get stuck.
Besides those two different tools that will give your writing muse a kick in the ass, I appreciate the app's convenience features. For instance, you can do all your writing right in the app, and it gives you stats that accumulate as you work. They'll tell you which day was your most active, your total writing time, average number of words and how many times you've used the app. Then, it lets you backup your work on Dropbox. Neat.
My only complaint is that the app is only set up for writing on an iPhone or iOS device, but I prefer to write on my PC using Dragon NaturallySpeaking. Nevertheless, I think Christensen is onto something here, and if he spreads this wisdom to Windows and OS X, Prompts [iTunes link] might be the cure for sufferers of the dreaded writer's block.
Images: Prompts, Apple, composite by Charlie White