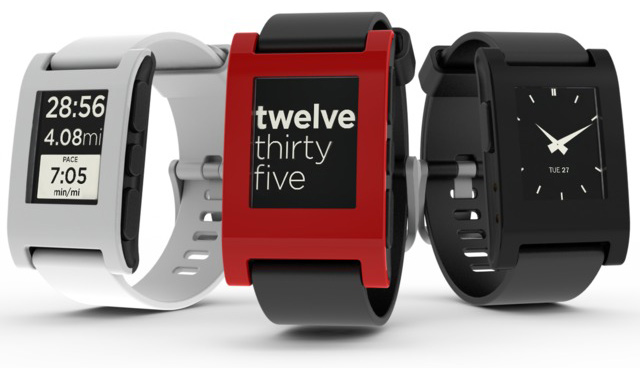 The smartwatch market is heating up — you might not have realized that there are at least eight contenders for the title of smartest smartwatch, and Apple and Google haven't even jumped into the fray yet.
This infographic catches you up, showing you the top 8 smartwatches in this nascent market, giving you a good look at the styling of each one, as well as its price, key attributes and compatible operating systems.

I expect many more companies to join this battle royale, adding to a growing list of contenders that reminds me of the scenario in the early '90s with music players. However, just like in those days, I think there will be a shakeout, with only a handful left over after the initial smartwatch derby plays itself out.
I wear the Pebble smartwatch, and although I like its variety of watch faces, I'm not impressed with its versatility … yet. On Wednesday, the company announced a firmware update that makes it so Bluetooth notifications work with all apps in iOS 7, a major improvement, but still, I wish it could do even more.
Like what? I want it to be able to tell me the temperature without having a smartphone nearby. I'd like for it to have a built-in and self-sufficient GPS navigation system. Basically, I wish you could do everything a smartphone could do, and be controllable via speech recognition. Given the challenges of small size and battery life, I think those features won't be around for several years.
Take a look at this extensive and delightfully unbiased infographic, created by a purveyor of timekeeping gadgetry, discountwatchstore.com. It's a lovely, well-done depiction of the major players that will put this new market in perspective for you.
Which smartwatch do you think will emerge victorious? I'm holding out for Apple and Google before I make my decision.

Bonus infographic: This table from Silica Labs shows you even more specs, in a format where you can directly compare the four most well-known competitors:

Images: Discount Watch Store, Silica Labs, Pebble