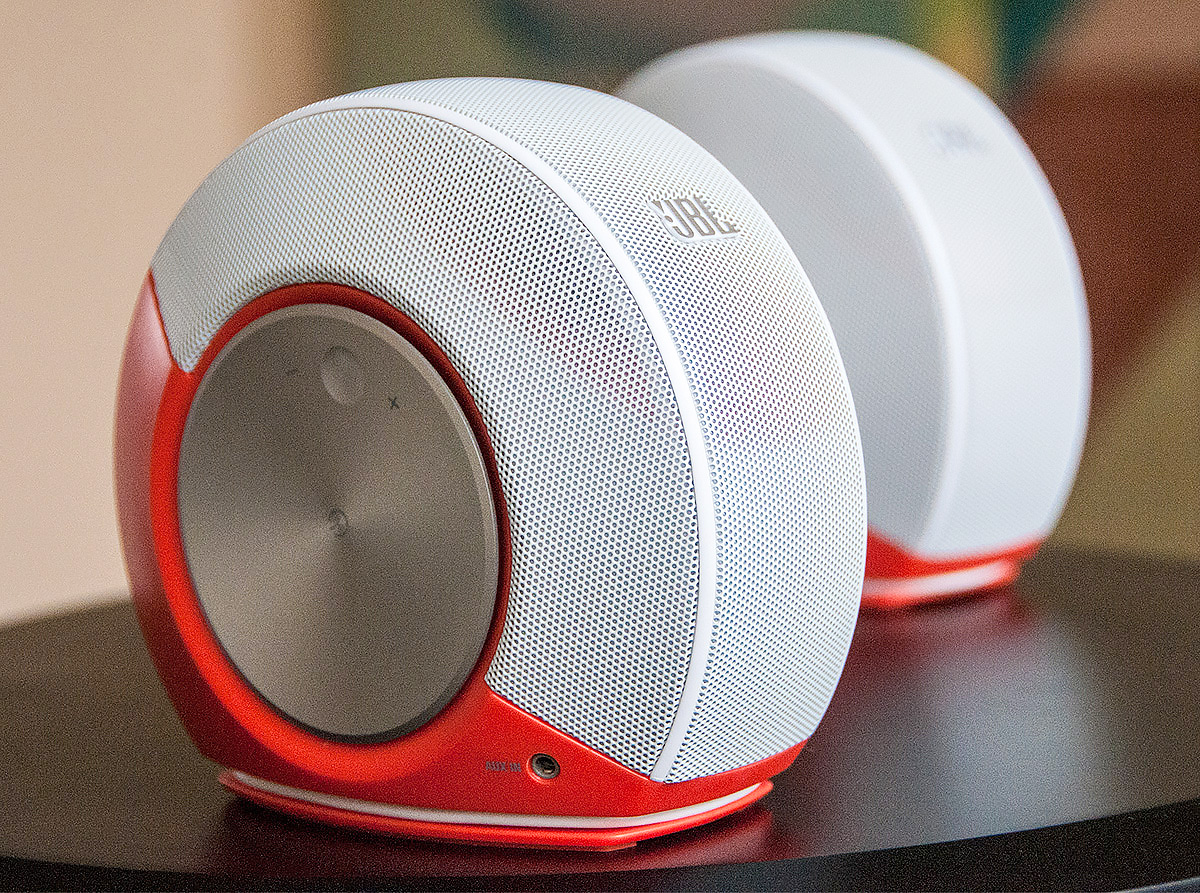 JBL has been getting creative with its speaker design lately, and the JBL Pebbles Plug and Play Stereo Computer Speakers are certainly no exception. Just look at this attractive pair of USB-powered speakers that look like oversized hockey pucks, standing on end and plugging into your Mac or PC's USB 2.0 port.
Do they sound as cool as they look? Let's give them a close listen.

As I plugged the two orange-and-white devices into my MacBook Pro, I realized these speakers are created specifically for laptops. You can stand them up vertically or lay them flat, but you can't separate them very far with their 32-inch cable.
So if you have a larger monitor or iMac, get a tape measure and see if these speakers can actually extend to either side of your setup. If not, for less than 4 bucks you could always get an extension cable to separate them farther apart.
After plugging them in, the pair of Pebbles were recognized right away, and a blue power light lit up on the right speaker. I like the way you can adjust the volume with the large rotary control integrated into the side of the right speaker.
Take a look at the gallery below, and you'll see the bass ports in the back of the speakers, the connecting cables' handy storage guides on the bottom of each speaker, and an aux input for any music device. And oh yeah, notice the speakers' downright good looks (if you don't like these colors, they're also available in black or white).
How do they sound? These are certainly not audiophile speakers, but their minuscule 50mm drivers can crank out an impressive amount of umph for their size. Listening to a variety of music, I was most impressed by their smooth midrange response. Their high-frequencies sounded clean but not quite extra-crispy, and I was surprised by their strong bass response, given the two drivers' tiny size.
While I think these low-priced speakers offer a good value — especially if you're just looking for a step up from the laptop's internal speaker — if you have more room, you can do much better for a few bucks more.
For the best value in computer speakers, I would recommend the Logitech Speaker System Z623. It's on sale now for $89.99, just $36 more than the JBL Pebbles, and they include a subwoofer the Pebbles lack. Granted, they are slightly larger than the JBL Pebbles, and if you don't have room for a subwoofer, they might not be suitable for you. However, their THX-certified sound is astonishing — I use them every day and highly recommend them.
Back to the JBL Pebbles — they deliver quality sound for a bargain price. Shop around for an even lower price — although they retail for $59.95 on the JBL site, I found them for just under $54 on Amazon.
Images: Charlie White