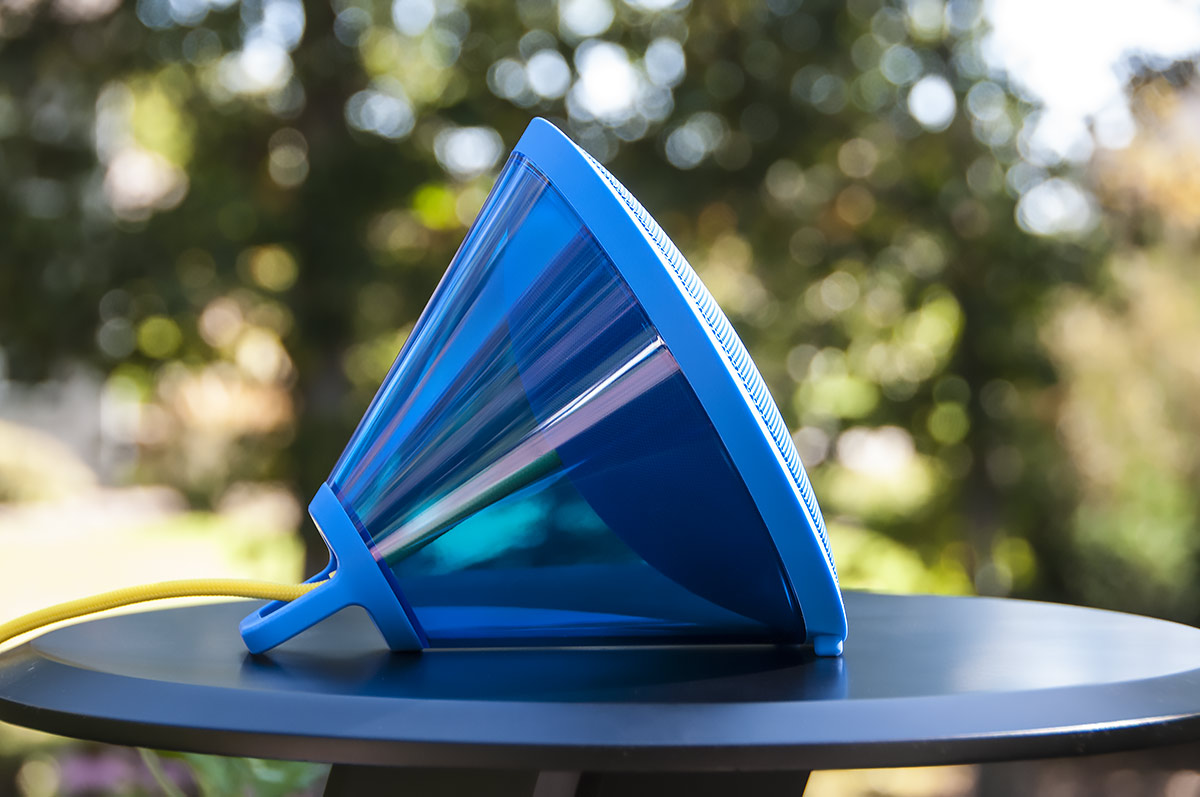 Designers at JBL went wild with the JBL Spark, a megaphone-shaped Bluetooth speaker made of plastic that sounds solid as a rock. Whether you hang it on a wall or set it on your desktop, this unusual speaker backs up its stylish good looks with serious sound.
One look at its unique design and you'll realize that the JBL Spark is about as portable as one of those cone-shaped collars dogs are forced to wear when they've been treated at the vet. Nor is it a wireless speaker, instead depending on a color-coordinated wall wart to bring power to the unit via its bright yellow woven-fabric cable. Nor does it have an auxiliary input, requiring you to connect with it via Bluetooth or nothing.

Those shortcomings only diminish slightly from the Spark's appeal, though. I think its design is whimsical and lovely, and I'm certain either the yellow, red or blue model would fit well in any modern decor. Incidentally, I love the way the cable reaches into the speaker, and when you look at it through the transparent blue enclosure, the yellow cable looks green. Clever.
Attached to that generously long cable is an in-line controller that lets you turn the speaker on and off, pair up Bluetooth and control the volume. After a quick push of the Bluetooth button, a small light flashes behind the JBL logo in the center the speaker, showing me it was time to pair up my Bluetooth device — in this case an iPhone 5 — and get down to some critical listening.
Whoa. The speaker cranks out a tremendous amount of sound. Its big sound belies its pair of 7-watt amplifiers pumping sound into its two 40mm drivers. And crispy sound it is, with high frequencies sounding crystalline and clean. Listening to songs involving guitars picking strings made those sounds jump out at me, resplendent in their nearly distortion-free glory.
The speaker's bass response was not quite as impressive. Although it's accurate and pleasant-sounding, it was not quite as strong as I expected from an enclosure that's just over 6 inches in diameter. Making up for that was the speaker's excellent midrange presence, faithfully reproducing voices and saxophones in a most delightful way.
Although I wish you could connect a couple of these Spark speakers and hear the left channel out of one speaker in the right channel from the other, I don't see that as a dealbreaker. However, add that deficiency to the missing auxiliary input, no battery power and lack of portability, and you have a product whose technology is less than perfect.
However, if you want to listen to your tunes on a high-quality, loud Bluetooth speaker with accurate sound reproduction — and make a fashion statement at the same time — the $129.95 JBL Spark is worth a close look and listen.
Images: Photos by Charlie White, multicolored product shot by JBL