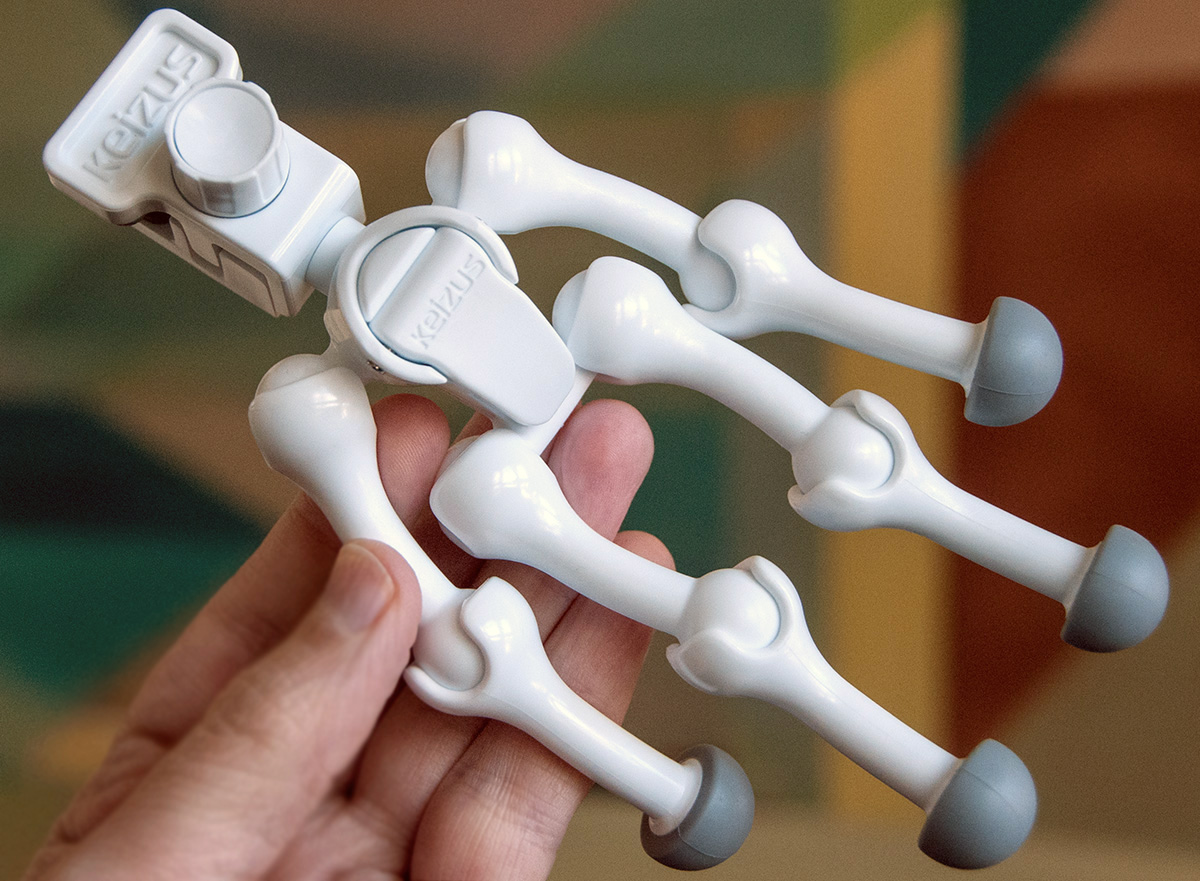 Move over Gorillapod, because here comes the Keizus Quadrapod, a tough little camera mount and stand that looks like an action figure. It bends every which way, letting you place your smartphone, tablet or camera just about anywhere.
The company sent me one for review, and I put it through its paces on a frigid day here at the Midwest Test Facility.

In a
whimsical video
, its makers proved that its molded plastic is tough enough to be run over by a car, and it withstood all kinds of abuse as I contorted it every which way, too.
It works particularly well as a camera mount, where its arms and legs can be wrapped around objects such as a tree limb, a rearview mirror, or in this case, a lighting fixture attached to the wall. Notice how you can place an iPhone in just about any position. Also in the gallery you'll see how I attached it to a kitchen cabinet, placing my iPhone in the perfect position to read a recipe as I worked.
I was impressed with the clamp that holds a device securely in place, adjustable from 7mm to 13mm thick. It won't let you over-tighten, automatically clicking when the device is properly secured.
If that still doesn't seem secure enough, you can remove your device, tighten the clamp a bit more, and then slide your device inside. The smooth rubber surfaces of the clamp won't damage your precious smartphone or tablet, either.
If you don't need to mount your device in an unusual place, the clamp is easily removed, and cooperates nicely with any tripod with a 1/4″-20 head mount thread size:
This versatile little guy can also function as a stand for a tablet or iPhone. However, it did much better as an iPhone stand, just barely big enough to accommodate a tablet. I had a couple of mishaps with my iPad while testing Keizus — and perhaps it was because of my ineptitude — but I would recommend using considerable care when propping up a valuable tablet with this little stand.





I like the humorous anthropomorphic shape of Keizus. Its single-segmented limbs are not quite as versatile as those of the multi-segmented Gorillapods, but the Keizus has the best iPhone clamp I've used. And its added versatility makes it worth your consideration.
The good news: We got an exclusive code for CharlieWhite.net readers from Keizus, giving you $5 off its rather steep $39.95 price if you type "5BucksOff" when buying it at the company's site.
Images: Charlie White