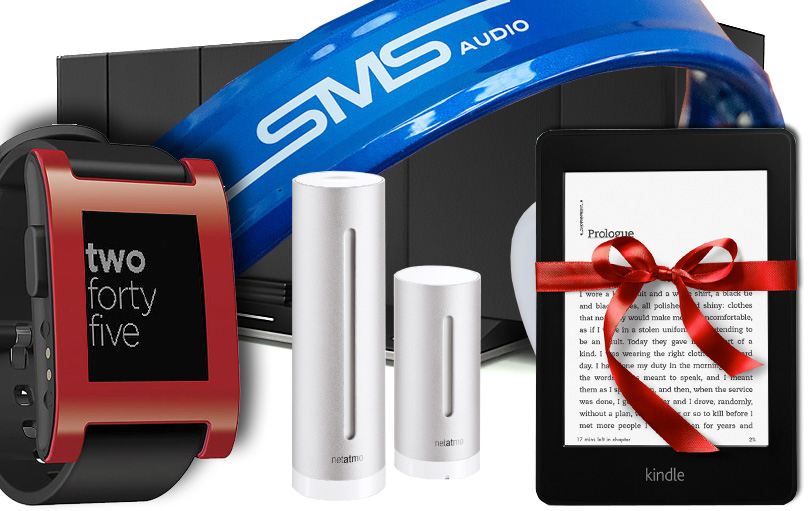 The countdown to Christmas marches on, with a mere eight days left (six if you're shopping online). If you're planning to splurge on a gift that costs $200 or less, I'm here to help you make a quick and easy decision.
I might even save you some money on one of these gifts, all of which look and perform like they cost a lot more than $200. You can't go wrong with any of these five perfect gifts, guaranteed.

How do I know? I've fallen in love with each of these devices, using them every day and appreciating their superior quality. Each is the best in its class, doing precisely what its maker advertises, and bringing me joy and exquisite utility that makes it worth every penny.
SEE ALSO: 5 perfect gifts under $100
I've scoured the web and found unusually low prices for some of these items. They might go even lower — it seems like the closer we get to Christmas, the more retailers are cutting prices.





You've probably heard about the Pebble Smartwatch, the most successful and practical of all the me-too digital timepieces rolling out in droves over the past several months. I've had my Pebble from the very beginning — I backed
its Kickstarter project
and snagged one of the first red Pebbles on the planet.
I've been impressed by its usefulness. Its list of apps is growing, but my favorite function is its basic ability to quietly vibrate on my wrist when I receive a phone call, allowing me to discreetly accept or reject the call without digging around for my phone.
Pebble does a lot more than that, and has a bright future ahead of it.
Originally selling for $150, now its price has dropped to $119.99. There's even better news: If you're a student (or someone with an .edu email address), you can pick up a Pebble Smartwatch for $89.99 at Best Buy.
---





Place one of these lovely aluminum cylinders in your living space, hang the other one in a shady spot outside your home, and you have yourself a sophisticated weather station that does so much more than just tell you the temperature and humidity.
Its most futuristic feature is its ability to display the amount of carbon dioxide in the air inside your house. This could be an important thing to know if you're cooped up during these long, cold winter months.
Another surprisingly useful feature is its sound meter, measuring the quietude (or never-ending racket) of your surroundings. For instance, it's sensitive enough to show you when your furnace turns on and off.
Adding to the fun is the ability to see elaborate and beautiful graphs of all the resulting data on your Android phone or tablet, iPad, iPhone, iPod Touch — or access the data online on any browser.
NetAtmo is not cheap at $188, but its exceptionally high quality, award-winning design and unquestionable utility makes it the perfect gift.
---





I was astonished to see this formidable Bluetooth iPad/iPhone dock on sale for
$199.99 at Target
(usually $299). It's without a doubt the best speaker dock I've ever tested, slam-dunking the awesome and highly regarded
Bowers & Wilkins Zeppelin
($640) in a side-by-side comparison.
The Sound Stack's brutish power, thundering bass, you-are-there midrange and shimmering highs will please even the most persnickety audiophiles. Of all the excellent designs from Soundfreaq — and I've reviewed them all — this is the company's tour de force.
What's the catch? It's not new, meaning it's lacking Apple's latest Lightning connector that's on the iPhone 5 or newer and the fourth-generation iPad or newer. Instead, it uses the old 30-pin connector of previous iPhones and iPads. But if that music lover on your list has an older iOS device, this would be the ideal gift. If not, Sound Stack's Bluetooth is still great — its connectivity lets you wirelessly hook up any Bluetooth-equipped device, or any other audio device via its Aux port.
Its astonishing sub-$200 price makes it the best deal I've seen this season. Read more about it in my review on Mashable I wrote a couple of years ago.
---





I've been a Kindle user since the very first day it was available, and this new Kindle Paperwhite e-reader is the best version yet. Its 6-inch E-Ink screen and ultra-light form factor give you the most pleasant e-reading experience ever created.
It's available in a variety of configurations. This one is equipped with 3G, letting you buy new books wherever there's cellular data coverage, and there's no additional monthly fees. If its $189 price is too much for you and you're able to quell your penchant for instant gratification, you can get a Wi-Fi-only Paperwhite for $119. If you find it too hard to ignore its somewhat annoying ads on the lock screen, you can buy your way out of that for an additional $20 on either model.
I found reading on the Kindle to be a more satidfying than any tablet, given its excellent next-generation built-in backlight. It's lighter than an iPad, and its smaller size is just right for reading. And it's so much cheaper. For me, an iPad is redundant, because whenever I want to browse the web or play with apps, I either use my laptop or iPhone, respectively.
If you're serious reader, consider this Kindle Paperwhite first before you spend $400 on a tablet. It's the best reading device in the world.
---
SMS Audio "Street by 50" wired on-ear headphones











If you're looking for some hot headphones at a great price, these SMS Audio "Street by 50" on-ear headphones will dance on your ears with super high-fidelity sound.
Consider this first if you're in the market for the way-too-popular Beats Studio HD Headphones ($299), and save $142.53 for sound quality that's just about the same.
I've been listening to these "Street by 50" cans for a couple of weeks now, and I've found them comfortable, attractive and capable of awe-inspiring musicality. Check out my review, where I call listening to these cans "an exceptionally pleasant experience."
Since I reviewed them, I was surprised to see that the $179.95 price has now been reduced to $156.47 at Amazon. It's the best deal in high-end headphones this season.
Graphics: Soundfreaq, Pebble, NetAtmo, Amazon Kindle, Charlie White