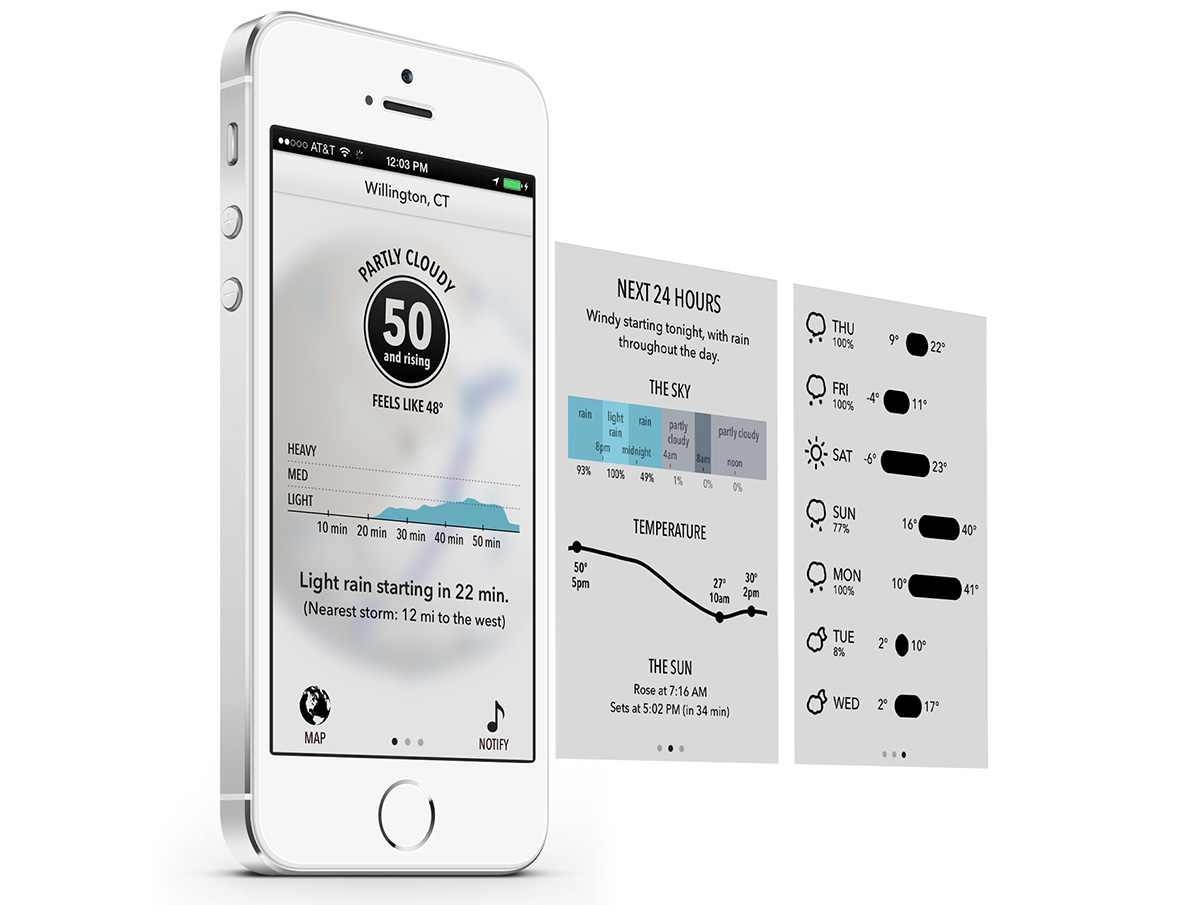 The Dark Sky weather app for iOS just got a whole lot better. In its newly released version 4.0, its best new feature lets you interactively animate a graphic of Earth, and you can visualize the polar vortex in a way you might not have ever seen.

That's merely the highlight of this completely rebuilt app, and I'll describe that to you and show you a video of it in action. First, let's take a quick tour of the $3.99 Dark Sky app, and revel in the wealth of hyperlocal weather graphics it can place at your fingertips.
Launch Dark Sky, and you'll see its entirely new, lighter-colored interface for iOS 7.
The black circle shows you the current temperature, and lets you know if that temperature is rising or falling. Underneath that is a unique animated graphic that shows you if it's going to rain soon, and if so, when it will rain and how heavy that rain will be.
On the right pic above you can see the graphic you get if you swipe away from that first screen. It starts out as a globe showing the entire Earth, and then you can pinch/zoom into your location. You can slide your finger along the bottom and animate the graphics as they display precipitation or temperature — showing you where the rain's been (or snow, or how hot or cold it's been), where it is now, and where it's going.
Dark Sky's interactive animation is fascinating, and in addition to describing conditions in your locality, it can show you a meta-view of the earth. This gives you a unique view of planetary weather conditions, and this time of year it's particularly interesting to see the polar vortex in action. I've never seen it visualized quite like this:
Let's go back to the main screen, and swipe the other way, where you get a useful look at what the weather will be doing in the next 24 hours and a lot more: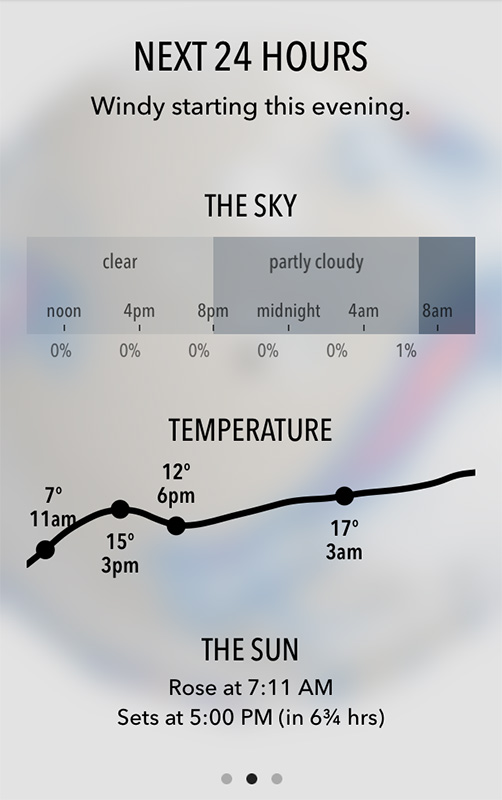 One more swipe and you get a 7-day forecast, showing you highs and lows. A swipe to the left on any of those days will show you wind and cloud conditions for that day's 24-hour period: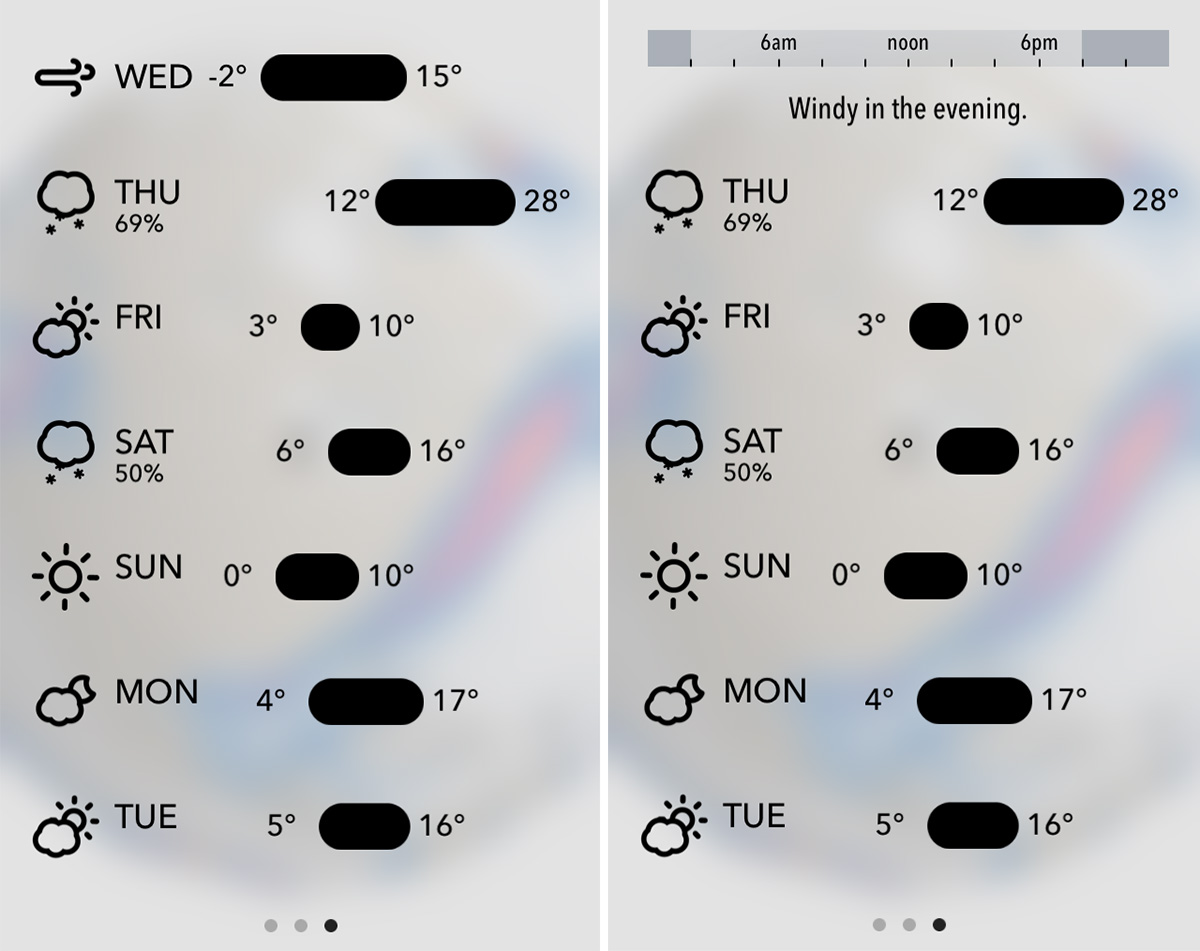 If you want to get a better look at the data and graphics behind this groundbreaking app, take a look at Dark Sky's web version, the Forecast.io site, which is the mothership for this hyperlocal weather extravaganza.
That website is impressive, but it lacks the most useful function of the Dark Sky mobile app: notifications of impending precipitation. I'm thankful for the ability to control how often the app notifies you — if it starts bugging you too much, you can tell it to only notify you if there's heavy precipitation on the way, or not at all. If you're planning outdoor activities, these notifications are always welcome.
I love this Dark Sky weather app. Although it's not as sophisticated as the full-blown personal weather station we have feeding data to our Midwest Test Facility Tree Tops weather site, Dark Sky makes me feel like I have a personal hyperlocal weather forecaster in my pocket. Despite all its sharp and interactive animations, it runs perfectly on my year-old iPhone 5, and displays its animations equally well on an iPad that's a couple of generations old.
Best of all, Dark Sky [iTunes link] keeps me posted about the most important weather information I need the most, precisely when and where I need it. I think it's well worth its $3.99 price.
Graphics: The Dark Sky Company; video: Charlie White